From Dislyte patch v3.1.7, the Resonance System will be adjusted. The new Resonance Divine Gate system will replace the old Talent Tree mechanism.
Each Resonance will light up one Divine Gate and the Esper will be able to obtain a divine power belonging to that gate to superboost their abilities or stats.
Each Esper is gonna gain unique buffs, giving them so much more power for their roles in the game, giving you the chance to form a lot more viable teams.
Below are some of the first features of the Divine Gate for all Espers in the current Dislyte version. Do note that these are not the final adjustments and there could be some minor changes in the future.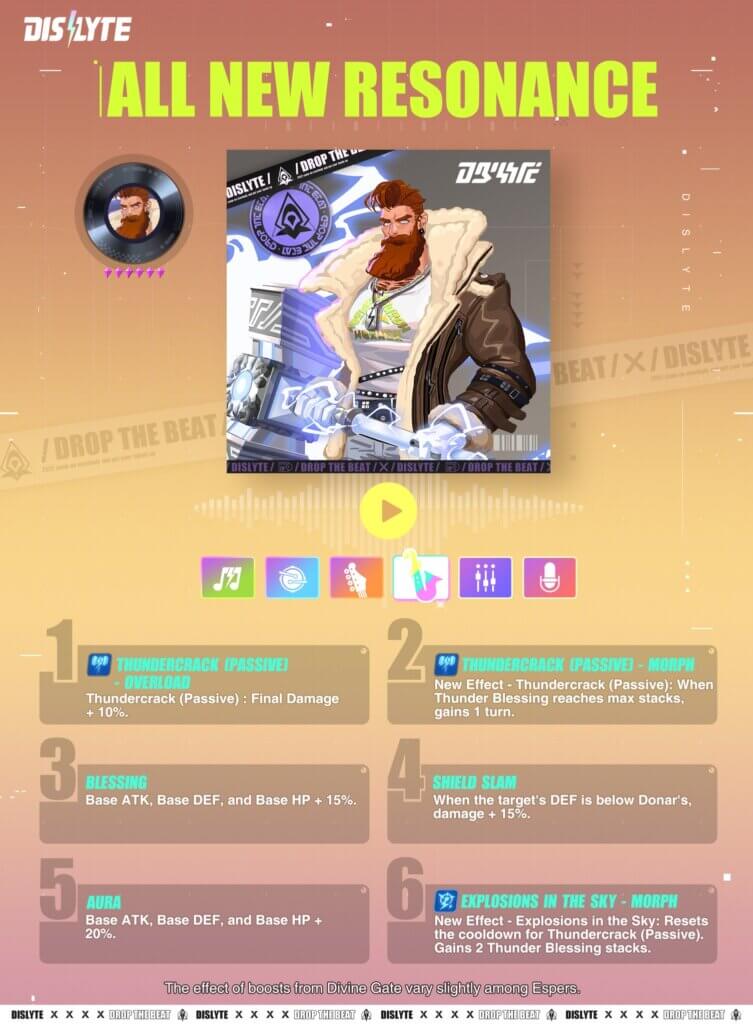 The New Resonance System
When getting a duplication of an Esper, the redundant Esper will be converted into Esper Materia automatically.
When getting 6+ repeated Esper Materia, they will be converted into Dioprism or Monoprism to be used in the Divine Sequencer Shop.
Use Esper Materia for Resonance. Each time it costs 1 Esper Materia of that specific Esper.
Each Esper can get a maximum of 6 resonances.
Each Resonance unlocks the Divine gate, giving Esper unique boosts.
About the Esper copies players acquired before update:

When there are a lot of copies, which one has the highest ability upgrade is considered the original Esper. The next priority of the primary Esper are: Resonance, Star Rating, Level, Ascension Level, the time of acquisition.
All of the not used copies will be transformed into Esper Materia if the sum is less than 7.
If the sum of the copies and Resonance level is more than 7, they will be converted into Dioprism or Monoprism. This is to make sure you will always have enough Espers to maximize the Resonance.
All Resonance Divine Gate Abilities
| | | |
| --- | --- | --- |
| Divine Gate 1 | Thundercrack (Passive) – Overload | Thundercrack (Passive) : Final Damage + 10%. |
| Divine Gate 2 | Thundercrack (Passive) – Morph | New Effect – Thundercrack (Passive): When Thunder Blessing reaches max stacks, gains 1 turn. |
| Divine Gate 3 | Blessing | Base ATK, Base DEF, and Base HP + 15%. |
| Divine Gate 4 | Shield Slam | When the target's DEF is below Donar's, damage + 15%. |
| Divine Gate 5 | Aura | Base ATK, Base DEF, and Base HP + 20%. |
| Divine Gate 6 | Explosions in the Sky – Morph | New Effect – Explosions in the Sky: Resets the cooldown for Thundercrack (Passive). Gains 2 Thunder Blessing stacks. |
| | | |
| --- | --- | --- |
| Divine Gate 1 | Mount Kunlun's Rage – Static | Mount Kunlun's Rage: AP Reduction changed to 75%. |
| Divine Gate 2 | Mount Kunlun's Blessing (Passive) – Morph | Change – Mount Kunlun's Blessing (Passive): Doubles AP Boost. |
| Divine Gate 3 | Blessing | Base ATK, Base DEF, and Base HP + 15%. |
| Divine Gate 4 | Self Sacrifice | When attacking, consumes 5% Max HP and deals True Damage. True Damage: 100% of consumed HP |
| Divine Gate 5 | Aura | Base ATK, Base DEF, and Base HP + 20%. |
| Divine Gate 6 | Mount Kunlun's Rage – Morph | New Effect – Mount Kunlun's Rage: If an ally is inflicted with Incapacitated, Ability Cooldown -1 turn (can be triggered once per turn). |
| | | |
| --- | --- | --- |
| Divine Gate 1 | Nightbringer – Plunder | Nightbringer AP absorption changed to 30%. |
| Divine Gate 2 | Nightbringer – Morph | New Effect – Nightbringer: Upon successfully absorbing AP, inflicts Silence on the target for 2 turns. |
| Divine Gate 3 | Blessing | Base ATK, Base DEF, and Base HP + 15%. |
| Divine Gate 4 | Hasty Action | If there is an ability on cooldown, SPD +20. |
| Divine Gate 5 | Aura | Base ATK, Base DEF, and Base HP + 20%. |
| Divine Gate 6 | Devouring Void – Morph | New Effect – Devouring Void: This ability won't miss. |
| | | |
| --- | --- | --- |
| Divine Gate 1 | Dancing Buds – Remedy | Dancing Buds: Final Healing +10%. |
| Divine Gate 2 | Life Flux | When the target's HP is below 40%, Healing +12%. |
| Divine Gate 3 | Blessing | Base ATK, Base DEF, and Base HP + 15%. |
| Divine Gate 4 | Hasty Action | If there is an ability on cooldown, SPD +18. |
| Divine Gate 5 | Aura | Base ATK, Base DEF, and Base HP + 20%. |
| Divine Gate 6 | Lotus Steps – Morph | New Effect – Lotus Steps: When Lotus Mark is triggered, heals its carrier. Healing: 15% of their Max HP. |
| | | |
| --- | --- | --- |
| Divine Gate 1 | Burning Roar – Overload | Burning Roar: Final Damage +10%. |
| Divine Gate 2 | Divine Resilience | When attacked by a critical hit, damage -12%. |
| Divine Gate 3 | Blessing | Base ATK, Base DEF, and Base HP + 15%. |
| Divine Gate 4 | Power Suppression | When at an elemental advantage, damage +12%. |
| Divine Gate 5 | Aura | Base ATK, Base DEF, and Base HP + 20%. |
| Divine Gate 6 | Eternal Strength – Morph | New Effect – Eternal Strength: Bull Rage's chance of ignoring debuffs increased to 100%. |
| | | |
| --- | --- | --- |
| Divine Gate 1 | Hydro-Inferno Combo – Overload | Hydro-Inferno Combo: Final Damage +10%. |
| Divine Gate 2 | Targeted Constraints | Each surviving enemy grants ACC +5% to Daylon. |
| Divine Gate 3 | Blessing | Base ATK, Base DEF, and Base HP + 15%. |
| Divine Gate 4 | Pressure Vitals | Upon successfully dispelling or stealing buffs, each buff inflicts Max HP Capacity -6% on the target, up to -12% per turn. |
| Divine Gate 5 | Aura | Base ATK, Base DEF, and Base HP + 20%. |
| Divine Gate 6 | Double Slash – Morph | New Effect – Double Slash: When the target isn't buffed, this attack's damage +10%. |
| | | |
| --- | --- | --- |
| Divine Gate 1 | Honorbound (Passive) – Overload | Honorbound (Passive): Final Damage +10%. |
| Divine Gate 2 | Targeted Constraints | Each surviving enemy grants ACC +4% to Bardon. |
| Divine Gate 3 | Blessing | Base ATK, Base DEF, and Base HP + 10%. |
| Divine Gate 4 | Field of Thorns | If attacking an enemy while not in Bardon's turn, damage +10%. |
| Divine Gate 5 | Aura | Base ATK, Base DEF, and Base HP + 10%. |
| Divine Gate 6 | Covenant | Base ATK, Base DEF, and Base HP + 15%. |
| | | |
| --- | --- | --- |
| Divine Gate 1 | Orb of Vaxar – Overload | Orb of Vaxar: Final Damage +10%. |
| Divine Gate 2 | Life Flux | When the target's HP is below 40%, Healing +10%. |
| Divine Gate 3 | Blessing | Base ATK, Base DEF, and Base HP + 10%. |
| Divine Gate 4 | Divine Resilience | When attacked by a critical hit, damage -10%. |
| Divine Gate 5 | Aura | Base ATK, Base DEF, and Base HP + 10%. |
| Divine Gate 6 | Covenant | Base ATK, Base DEF, and Base HP + 15%. |

| | | |
| --- | --- | --- |
| Divine Gate 1 | Advent of the Goddess -Overload | Advent of the Goddess: Final Damage +10%. |
| Divine Gate 2 | Targeted Constraints | Each surviving enemy grants ACC +4% to Brynn. |
| Divine Gate 3 | Blessing | Base ATK, Base DEF, and Base HP + 10%. |
| Divine Gate 4 | Feral Retribution | When the target is Incapacitated, damage +10%. |
| Divine Gate 5 | Aura | Base ATK, Base DEF, and Base HP + 10%. |
| Divine Gate 6 | Covenant | Base ATK, Base DEF, and Base HP + 15%. |
| | | |
| --- | --- | --- |
| Divine Gate 1 | Lunar Hail – Overload | Lunar Hail: Final Damage +10%. |
| Divine Gate 2 | Life Blast | When Chloe's HP is 100%, C. RATE +25%. |
| Divine Gate 3 | Blessing | Base ATK, Base DEF, and Base HP + 15%. |
| Divine Gate 4 | Rampage Pursuit | When the target's HP is below 50%, damage +12%. |
| Divine Gate 5 | Aura | Base ATK, Base DEF, and Base HP + 20%. |
| Divine Gate 6 | Moonshot – Morph | New Effect – Moonshot: Upon killing an enemy, Lunar Hail Cooldown -1 turn. |
| | | |
| --- | --- | --- |
| Divine Gate 1 | Piercing Strike – Overload | Piercing Strike: Final Damage +10%. |
| Divine Gate 2 | Shimmering Light | Upon killing an enemy, heals Drew. Healing: 20% Max HP. |
| Divine Gate 3 | Blessing | Base ATK, Base DEF, and Base HP + 10%. |
| Divine Gate 4 | Life Snatcher | When an enemy is killed, SPD +20. |
| Divine Gate 5 | Aura | Base ATK, Base DEF, and Base HP + 10%. |
| Divine Gate 6 | Covenant | Base ATK, Base DEF, and Base HP + 15%. |
| | | |
| --- | --- | --- |
| Divine Gate 1 | Uncaged Beast – Remedy | Uncaged Beast: Final Healing +10%. |
| Divine Gate 2 | Berserker Drain | When HP is below 60%, Lifesteal amount +10%. |
| Divine Gate 3 | Blessing | Base ATK, Base DEF, and Base HP + 10%. |
| Divine Gate 4 | Self Sacrifice | When attacking, consumes 5% Max HP and deals True Damage. True Damage: 50% of consumed HP |
| Divine Gate 5 | Aura | Base ATK, Base DEF, and Base HP + 10%. |
| Divine Gate 6 | Covenant | Base ATK, Base DEF, and Base HP + 15%. |
| | | |
| --- | --- | --- |
| Divine Gate 1 | Waters of Lethe – Overload | Waters of Lethe: Final Damage +10%. |
| Divine Gate 2 | Life Blast | When Jiang Man's HP is 100%, C. RATE +25%. |
| Divine Gate 3 | Blessing | Base ATK, Base DEF, and Base HP + 15%. |
| Divine Gate 4 | Life Snatcher | When an enemy is killed, SPD +25. |
| Divine Gate 5 | Aura | Base ATK, Base DEF, and Base HP + 20%. |
| Divine Gate 6 | Flower Paths (Passive) – Morph | Change – Flower Paths (Passive): When attacked by enemies with Netherbloom, Counterattack Chance increases to 100%. |
| | | |
| --- | --- | --- |
| Divine Gate 1 | Slumber – Overload | Slumber: Final Damage +10%. |
| Divine Gate 2 | Targeted Constraints | Each surviving enemy grants ACC +5% to Celine. |
| Divine Gate 3 | Blessing | Base ATK, Base DEF, and Base HP + 15%. |
| Divine Gate 4 | Hasty Action | If there is an ability on cooldown, SPD +18. |
| Divine Gate 5 | Aura | Base ATK, Base DEF, and Base HP + 20%. |
| Divine Gate 6 | Slumber – Morph | Change – Slumber: Sleep extended to 2 turns. |
| | | |
| --- | --- | --- |
| Divine Gate 1 | Doomstroke – Overload | Doomstroke: Final Damage +10%. |
| Divine Gate 2 | Accurate Aim | When the target is not buffed, Kara's Miss Rate -25%. |
| Divine Gate 3 | Blessing | Base ATK, Base DEF, and Base HP + 15%. |
| Divine Gate 4 | Defense Intrusion | When attacking, 18% chance of ignoring RESIST. |
| Divine Gate 5 | Aura | Base ATK, Base DEF, and Base HP + 20%. |
| Divine Gate 6 | Doomstroke – Morph | New Effect – Doomstroke: The target's AP -15%. |
| | | |
| --- | --- | --- |
| Divine Gate 1 | Rage Avatar – Overload | Rage Avatar: Final Damage +10%. |
| Divine Gate 2 | Flames of Fury – Morph | New Effect – Flames of Fury: Dispels all buffs from targets. |
| Divine Gate 3 | Blessing | Base ATK, Base DEF, and Base HP + 15%. |
| Divine Gate 4 | Rampage Pursuit | When the target's HP is below 50%, damage +15%. |
| Divine Gate 5 | Aura | Base ATK, Base DEF, and Base HP + 20%. |
| Divine Gate 6 | Rage Avatar – Morph | New Effect – Rage Avatar: Upon killing the target, attacks all enemies. Damage: 50% of Overkill damage. |
| | | |
| --- | --- | --- |
| Divine Gate 1 | Seabreeze Sonata – Overload | Seabreeze Sonata: Final Damage +10%. |
| Divine Gate 2 | Rock Solid | Damage Taken -18% (expires upon gaining a turn for the first time in combat). |
| Divine Gate 3 | Blessing | Base ATK, Base DEF, and Base HP + 15%. |
| Divine Gate 4 | Hasty Action | If there is an ability on cooldown, SPD +18. |
| Divine Gate 5 | Aura | Base ATK, Base DEF, and Base HP + 20%. |
| Divine Gate 6 | Seabreeze Sonata – Morph | New Effect – Seabreeze Sonata: Grants Brisingamen's Watch to 1 ally for 2 turns. |
| | | |
| --- | --- | --- |
| Divine Gate 1 | Joke of the Aether – Overload | Joke of the Aether: Final Damage +10%. |
| Divine Gate 2 | Vital Edge | When the target's HP is above 50%, damage +10%. |
| Divine Gate 3 | Blessing | Base ATK, Base DEF, and Base HP + 10%. |
| Divine Gate 4 | Life Snatcher | When an enemy is killed, SPD +20. |
| Divine Gate 5 | Aura | Base ATK, Base DEF, and Base HP + 10%. |
| Divine Gate 6 | Covenant | Base ATK, Base DEF, and Base HP + 15%. |
| | | |
| --- | --- | --- |
| Divine Gate 1 | Falconer – Overload | Falconer: Final Damage +10%. |
| Divine Gate 2 | Berserker Drain | When HP is below 60%, Lifesteal amount +12%. |
| Divine Gate 3 | Blessing | Base ATK, Base DEF, and Base HP + 15%. |
| Divine Gate 4 | Field of Thorns | If attacking an enemy while not in Falken's turn, damage +12%. |
| Divine Gate 5 | Aura | Base ATK, Base DEF, and Base HP + 20%. |
| Divine Gate 6 | Falconer – Morph | New Effect – Falconer: Also inflicts SPD Down on the target for 2 turns. |
| | | |
| --- | --- | --- |
| Divine Gate 1 | Skyshot – Overload | Skyshot: Final Damage +10%. |
| Divine Gate 2 | Shimmering Light | Upon killing an enemy, heals Lu Yi. Healing: 25% Max HP. |
| Divine Gate 3 | Blessing | Base ATK, Base DEF, and Base HP + 15%. |
| Divine Gate 4 | Wild Expulsion | Upon a Crit, 18% chance of dispelling 1 buff from the target. |
| Divine Gate 5 | Aura | Base ATK, Base DEF, and Base HP + 20%. |
| Divine Gate 6 | Skyshot – Morph | New Effect – Skyshot: Each debuff on the target increases Lu Yi's damage by +5%. |
| | | |
| --- | --- | --- |
| Divine Gate 1 | Shattering Dream – Overload | Shattering Dream: Final Damage +10%. |
| Divine Gate 2 | Enchanting Dream – Morph | Change – Enchanting Dream: Instead of absorbing Enchantments, grants corresponding effects based on the number of Enchantments. If Tang Xuan has an Enchantment, 20% chance of launching a Pursuit attack. |
| Divine Gate 3 | Blessing | Base ATK, Base DEF, and Base HP + 15%. |
| Divine Gate 4 | Divine Strike | After casting a non-basic ability, the next basic ability's damage +30%. |
| Divine Gate 5 | Aura | Base ATK, Base DEF, and Base HP + 20%. |
| Divine Gate 6 | Righteous Anger – Morph | Change – Righteous Anger: The number of targets taking splash damage increased to 4. |
| | | |
| --- | --- | --- |
| Divine Gate 1 | Glorious Aura – Overload | Glorious Aura: Final Damage +10%. |
| Divine Gate 2 | Law of Conjunction | When granting buffs, each buff heals Fabrice. Healing: 2.5% Max HP, up to 10% per turn. |
| Divine Gate 3 | Blessing | Base ATK, Base DEF, and Base HP + 15%. |
| Divine Gate 4 | Rock Solid | Damage Taken -18% (expires upon gaining a turn for the first time in combat). |
| Divine Gate 5 | Aura | Base ATK, Base DEF, and Base HP + 20%. |
| Divine Gate 6 | Love Sonata – Morph | New Effect – Love Sonata: Grants SPD Up to allies other than the target for 1 turn. |
| | | |
| --- | --- | --- |
| Divine Gate 1 | Scouring Whip – Overload | Scouring Whip: Final Damage +10%. |
| Divine Gate 2 | Targeted Constraints | Each surviving enemy grants ACC +5% to Arcana. |
| Divine Gate 3 | Blessing | Base ATK, Base DEF, and Base HP + 15%. |
| Divine Gate 4 | Defense Intrusion | When attacking, 18% chance of ignoring RESIST. |
| Divine Gate 5 | Aura | Base ATK, Base DEF, and Base HP + 20%. |
| Divine Gate 6 | Scouring Whip – Morph | New Effect – Scouring Whip: Each buff stolen grants AP +5% to allies other than Arcana. |

| | | |
| --- | --- | --- |
| Divine Gate 1 | Sandstorm – Overload | Sandstorm: Final Damage +10%. |
| Divine Gate 2 | Speed Boost | When any ally is currently not alive, SPD +25. |
| Divine Gate 3 | Blessing | Base ATK, Base DEF, and Base HP + 15%. |
| Divine Gate 4 | Power Suppression | When at an elemental advantage, damage +12%. |
| Divine Gate 5 | Aura | Base ATK, Base DEF, and Base HP + 20%. |
| Divine Gate 6 | Corrosion – Morph | New Effect – Corrosion: 50% chance of inflicting Stun on the target for 1 turn. |
| | | |
| --- | --- | --- |
| Divine Gate 1 | Brilliance – Overload | Brilliance: Final Damage +10%. |
| Divine Gate 2 | Life Flux | When the target's HP is below 40%, Healing +12%. |
| Divine Gate 3 | Blessing | Base ATK, Base DEF, and Base HP + 15%. |
| Divine Gate 4 | Hasty Action | If there is an ability on cooldown, SPD +18. |
| Divine Gate 5 | Aura | Base ATK, Base DEF, and Base HP + 20%. |
| Divine Gate 6 | Kiss of the Nightingale – Morph | New Effect – Kiss of the Nightingale: Kiss of the Nightingale grants the carrier immunity to debuffs other than Incapacitated. |
| | | |
| --- | --- | --- |
| Divine Gate 1 | Queen of the Night – Overload | Queen of the Night: Final Damage +10%. |
| Divine Gate 2 | Targeted Constraints | Each surviving enemy grants ACC +4% to Melanie. |
| Divine Gate 3 | Blessing | Base ATK, Base DEF, and Base HP + 10%. |
| Divine Gate 4 | Defense Intrusion | When attacking, 16% chance of ignoring RESIST. |
| Divine Gate 5 | Aura | Base ATK, Base DEF, and Base HP + 10%. |
| Divine Gate 6 | Covenant | Base ATK, Base DEF, and Base HP + 15%. |
| | | |
| --- | --- | --- |
| Divine Gate 1 | Beast Attack – Overload | Beast Attack: Final Damage +10%. |
| Divine Gate 2 | Life Blast | When Zelmer's HP is 100%, C. RATE +20%. |
| Divine Gate 3 | Blessing | Base ATK, Base DEF, and Base HP + 10%. |
| Divine Gate 4 | Vital Edge | When the target's HP is above 50%, damage +10%. |
| Divine Gate 5 | Aura | Base ATK, Base DEF, and Base HP + 10%. |
| Divine Gate 6 | Covenant | Base ATK, Base DEF, and Base HP + 15%. |
| | | |
| --- | --- | --- |
| Divine Gate 1 | Mistletoe Hunter (Passive) – Overload | Mistletoe Hunter (Passive): Final Damage +10%. |
| Divine Gate 2 | Targeted Constraints | Each surviving enemy grants ACC +4% to Hall. |
| Divine Gate 3 | Blessing | Base ATK, Base DEF, and Base HP + 10%. |
| Divine Gate 4 | Field of Thorns | If attacking an enemy while not in Hall's turn, damage +10%. |
| Divine Gate 5 | Aura | Base ATK, Base DEF, and Base HP + 10%. |
| Divine Gate 6 | Covenant | Base ATK, Base DEF, and Base HP + 15%. |
| | | |
| --- | --- | --- |
| Divine Gate 1 | Undying Elixir (Passive) – Remedy | Undying Elixir (Passive): Final Healing +10%. |
| Divine Gate 2 | Life Flux | When the target's HP is below 40%, Healing +12%. |
| Divine Gate 3 | Blessing | Base ATK, Base DEF, and Base HP + 15%. |
| Divine Gate 4 | Hasty Action | If there is an ability on cooldown, SPD +18. |
| Divine Gate 5 | Aura | Base ATK, Base DEF, and Base HP + 20%. |
| Divine Gate 6 | Undying Elixir (Passive) – Morph | New Effect – Undying Elixir (Passive): This ability takes effect 2 times every turn. |
| | | |
| --- | --- | --- |
| Divine Gate 1 | Fate – Overload | Fate: Final Damage +10%. |
| Divine Gate 2 | Divine Resilience | When attacked by a critical hit, damage -12%. |
| Divine Gate 3 | Blessing | Base ATK, Base DEF, and Base HP + 15%. |
| Divine Gate 4 | Accurate Aim | When the target is not buffed, Luo Yan's Miss Rate -25%. |
| Divine Gate 5 | Aura | Base ATK, Base DEF, and Base HP + 20%. |
| Divine Gate 6 | Life – Morph | New Effect – Life: Gains Death Tome for 2 turns. |
| | | |
| --- | --- | --- |
| Divine Gate 1 | Avatara – Overload | Avatara: Final Damage +10%. |
| Divine Gate 2 | Divine Resilience | When attacked by a critical hit, damage -10%. |
| Divine Gate 3 | Blessing | Base ATK, Base DEF, and Base HP + 10%. |
| Divine Gate 4 | Deathly Cinders | When any ally is currently not alive, C. DMG +30%. |
| Divine Gate 5 | Aura | Base ATK, Base DEF, and Base HP + 10%. |
| Divine Gate 6 | Covenant | Base ATK, Base DEF, and Base HP + 15%. |
| | | |
| --- | --- | --- |
| Divine Gate 1 | Fashion Sense – Overload | Fashion Sense: Final Damage +10%. |
| Divine Gate 2 | Life Blast | When Mona's HP is 100%, C. RATE +25%. |
| Divine Gate 3 | Blessing | Base ATK, Base DEF, and Base HP + 15%. |
| Divine Gate 4 | Shimmering Light | Upon killing an enemy, heals Chloe. Healing: 25% Max HP. |
| Divine Gate 5 | Aura | Base ATK, Base DEF, and Base HP + 20%. |
| Divine Gate 6 | Fashion Sense – Morph | New Effect – Fashion Sense: Gains a bonus attack that attacks all enemies. Damage: 30% ATK. |
| | | |
| --- | --- | --- |
| Divine Gate 1 | Sunset – Overload | Sunset: Final Damage +10%. |
| Divine Gate 2 | Sunset – Morph | New Effect – Sunset: If a target has no buff, each attack will inflict a debuff will increase all their ability cooldowns by 1 turn. |
| Divine Gate 3 | Blessing | Base ATK, Base DEF, and Base HP + 15%. |
| Divine Gate 4 | Pressure Vitals | Upon successfully dispelling or stealing buffs, each buff inflicts Max HP Capacity -7% on the target, up to -14% per turn. |
| Divine Gate 5 | Aura | Base ATK, Base DEF, and Base HP + 20%. |
| Divine Gate 6 | Sleipnir – Morph | New Effect – Sleipnir: The action of dispelling status effects and inflicting DEF Down is taken before damaging enemies. |
| | | |
| --- | --- | --- |
| Divine Gate 1 | Underworld Presence – Overload | Underworld Presence: Final Damage +10%. |
| Divine Gate 2 | Law of Conjunction | When granting buffs, each buff heals Catherine. Healing: 2.5% Max HP, up to 10% per turn. |
| Divine Gate 3 | Blessing | Base ATK, Base DEF, and Base HP + 15%. |
| Divine Gate 4 | Speed Boost | When any ally is currently not alive, SPD +25. |
| Divine Gate 5 | Aura | Base ATK, Base DEF, and Base HP + 20%. |
| Divine Gate 6 | Bone Pass (Passive) – Morph | New – Bone Pass (Passive): When an ally is killed, Catherine's AP +15%. |
| | | |
| --- | --- | --- |
| Divine Gate 1 | Thrill of the Hunt – Overload | Thrill of the Hunt: Final Damage +10%. |
| Divine Gate 2 | Rampage Pursuit | When the target's HP is below 50%, damage +10%. |
| Divine Gate 3 | Blessing | Base ATK, Base DEF, and Base HP + 10%. |
| Divine Gate 4 | Divine Strike | After casting a non-basic ability, the next basic ability's damage +20%. |
| Divine Gate 5 | Aura | Base ATK, Base DEF, and Base HP + 10%. |
| Divine Gate 6 | Covenant | Base ATK, Base DEF, and Base HP + 15%. |
| | | |
| --- | --- | --- |
| Divine Gate 1 | Wisdom's Name – Overload | Wisdom's Name: Final Damage +10%. |
| Divine Gate 2 | Targeted Constraints | Each surviving enemy grants ACC +5% to Pritzker. |
| Divine Gate 3 | Blessing | Base ATK, Base DEF, and Base HP + 15%. |
| Divine Gate 4 | Accurate Aim | When the target is not buffed, Pritzker's Miss Rate -25%. |
| Divine Gate 5 | Aura | Base ATK, Base DEF, and Base HP + 20%. |
| Divine Gate 6 | Wisdom's Name – Morph | New Effect – Wisdom's Name: 60% chance of inflicting SPD Down on the target for 2 turns. |
| | | |
| --- | --- | --- |
| Divine Gate 1 | Emblazoned Strike – Overload | Emblazoned Strike: Final Damage +10%. |
| Divine Gate 2 | Wheel of Fate (Passive) – Morph 1 | Change – Wheel of Fate (Passive): Max stacks of Burning Sun increased to 12. Upon casting Emblazoned Strike, gains 2 Burning Sun stacks. |
| Divine Gate 3 | Blessing | Base ATK, Base DEF, and Base HP + 15%. |
| Divine Gate 4 | Preemptive Strike | For the 1st active ability Narmer casts in battle, its damage +15%. |
| Divine Gate 5 | Aura | Base ATK, Base DEF, and Base HP + 20%. |
| Divine Gate 6 | Wheel of Fate (Passive) – Morph 2 | New Effect – Wheel of Fate (Passive): When Burning Sun reaches max stacks, casts Emblazoned Strike. |
| | | |
| --- | --- | --- |
| Divine Gate 1 | Curtain Call – Overload | Curtain Call: Final Damage +10%. |
| Divine Gate 2 | Resilient Spirit | When Incapacitated, Damage Taken -16%. |
| Divine Gate 3 | Blessing | Base ATK, Base DEF, and Base HP + 10%. |
| Divine Gate 4 | Defense Intrusion | When attacking, 16% chance of ignoring RESIST. |
| Divine Gate 5 | Aura | Base ATK, Base DEF, and Base HP + 10%. |
| Divine Gate 6 | Covenant | Base ATK, Base DEF, and Base HP + 15%. |

| | | |
| --- | --- | --- |
| Divine Gate 1 | Tai Chi – Overload | Tai Chi: Final Damage +10%. |
| Divine Gate 2 | Tai Chi – Morph | New Effect – Tai Chi: 50% chance of inflicting DEF Down on the target for 2 turns. |
| Divine Gate 3 | Blessing | Base ATK, Base DEF, and Base HP + 15%. |
| Divine Gate 4 | Shimmering Light | Upon killing an enemy, heals Li Ling. Healing: 30% Max HP. |
| Divine Gate 5 | Aura | Base ATK, Base DEF, and Base HP + 20%. |
| Divine Gate 6 | Altar – Morph | Change – Altar: Each hit absorbs 10% of the target's AP. |
| | | |
| --- | --- | --- |
| Divine Gate 1 | Healing Water – Remedy | Healing Water: Final Healing +10%. |
| Divine Gate 2 | Life Flux | When the target's HP is below 40%, Healing +10%. |
| Divine Gate 3 | Blessing | Base ATK, Base DEF, and Base HP + 10%. |
| Divine Gate 4 | Speed Boost | When any ally is currently not alive, SPD +20. |
| Divine Gate 5 | Aura | Base ATK, Base DEF, and Base HP + 10%. |
| Divine Gate 6 | Covenant | Base ATK, Base DEF, and Base HP + 15%. |
| | | |
| --- | --- | --- |
| Divine Gate 1 | Dust To Dust – Overload | Dust To Dust: Final Damage +10%. |
| Divine Gate 2 | Divine Resilience | When attacked by a critical hit, damage -12%. |
| Divine Gate 3 | Blessing | Base ATK, Base DEF, and Base HP + 15%. |
| Divine Gate 4 | Defense Intrusion | When attacking, 18% chance of ignoring RESIST. |
| Divine Gate 5 | Aura | Base ATK, Base DEF, and Base HP + 20%. |
| Divine Gate 6 | Entoxification – Morph | Change – Entoxification: Poison inflicted by Fangs extended to 2 turns. |
| | | |
| --- | --- | --- |
| Divine Gate 1 | Turtler – Overload | Turtler: Final Damage +10%. |
| Divine Gate 2 | Vital Life | When HP is below 40%, Healing Received and Shield Strength +12%. |
| Divine Gate 3 | Blessing | Base ATK, Base DEF, and Base HP + 15%. |
| Divine Gate 4 | Shimmering Light | Upon killing an enemy, heals Ren Si. Healing: 25% Max HP. |
| Divine Gate 5 | Aura | Base ATK, Base DEF, and Base HP + 20%. |
| Divine Gate 6 | Life-giver (Passive) – Morph | Change – Life-giver (Passive): Standoff extended to 2 turns. |
| | | |
| --- | --- | --- |
| Divine Gate 1 | Greenflames – Overload | Greenflames: Final Damage +10%. |
| Divine Gate 2 | Revolver – Morph | New Effect – Revolver: Inflicts SPD Down on the target for 2 turns. |
| Divine Gate 3 | Blessing | Base ATK, Base DEF, and Base HP + 15%. |
| Divine Gate 4 | Pressure Vitals | Upon successfully dispelling or stealing buffs, each buff inflicts Max HP Capacity -7% on the target, up to -14% per turn. |
| Divine Gate 5 | Aura | Base ATK, Base DEF, and Base HP + 20%. |
| Divine Gate 6 | Gambit (Passive) – Morph | New Effect – Gambit (Passive): HP reduction will not be lower than 15% of target's Max HP (will not kill the target). |
| | | |
| --- | --- | --- |
| Divine Gate 1 | Whiplash – Overload | Whiplash: Final Damage +10%. |
| Divine Gate 2 | Deathly Cinders | When any ally is currently not alive, C. DMG +35%. |
| Divine Gate 3 | Blessing | Base ATK, Base DEF, and Base HP + 15%. |
| Divine Gate 4 | Divine Strike | After casting a non-basic ability, the next basic ability's damage +25%. |
| Divine Gate 5 | Aura | Base ATK, Base DEF, and Base HP + 20%. |
| Divine Gate 6 | Light of the Tiger – Morph | New Effect – Light of the Tiger: Tiger Roar increases the carrier's C. DMG by +40%. |
| | | |
| --- | --- | --- |
| Divine Gate 1 | Gold Pulse – Overload | Gold Pulse: Final Damage +10%. |
| Divine Gate 2 | Critical Response | When Chalmers' HP is below 50%, ally damage +8%. |
| Divine Gate 3 | Blessing | Base ATK, Base DEF, and Base HP + 10%. |
| Divine Gate 4 | Perfect Harvest | If a single ability's damage is higher than 35% of the target's Max HP, deals additional True Damage. True Damage: 10% of the target's Max HP. |
| Divine Gate 5 | Aura | Base ATK, Base DEF, and Base HP + 10%. |
| Divine Gate 6 | Covenant | Base ATK, Base DEF, and Base HP + 15%. |
| | | |
| --- | --- | --- |
| Divine Gate 1 | Moon Dance – Aegis | Moon Dance: Final Shield Strength +10%. |
| Divine Gate 2 | Protective Shield | When granting a Shield, Shield Strength +20% |
| Divine Gate 3 | Blessing | Base ATK, Base DEF, and Base HP + 10%. |
| Divine Gate 4 | Vital Life | When HP is below 40%, Healing Received and Shield Strength +10%. |
| Divine Gate 5 | Aura | Base ATK, Base DEF, and Base HP + 10%. |
| Divine Gate 6 | Covenant | Base ATK, Base DEF, and Base HP + 15%. |
| | | |
| --- | --- | --- |
| Divine Gate 1 | Berserker Ray – Overload | Berserker Ray: Final Damage +10%. |
| Divine Gate 2 | Feral Retribution | When the target is Incapacitated, damage +10%. |
| Divine Gate 3 | Blessing | Base ATK, Base DEF, and Base HP + 10%. |
| Divine Gate 4 | Defense Intrusion | When attacking, 16% chance of ignoring RESIST. |
| Divine Gate 5 | Aura | Base ATK, Base DEF, and Base HP + 10%. |
| Divine Gate 6 | Covenant | Base ATK, Base DEF, and Base HP + 15%. |
| | | |
| --- | --- | --- |
| Divine Gate 1 | Cold Touch – Overload | Cold Touch: Final Damage +10%. |
| Divine Gate 2 | Targeted Constraints | Each surviving enemy grants ACC +5% to Long Mian. |
| Divine Gate 3 | Blessing | Base ATK, Base DEF, and Base HP + 15%. |
| Divine Gate 4 | Rock Solid | Damage Taken -18% (expires upon gaining a turn for the first time in combat). |
| Divine Gate 5 | Aura | Base ATK, Base DEF, and Base HP + 20%. |
| Divine Gate 6 | Thorn of Frost – Morph | Change – Thorn of Frost: Upon successfully granting SPD Down, gains SPD Up for 1 turn. |
| | | |
| --- | --- | --- |
| Divine Gate 1 | Cerberus – Overload | Cerberus: Final Damage +10%. |
| Divine Gate 2 | Reaper (Passive) – Morph 1 | New – Reaper (Passive): Unexpired Breath of the Deep can be used in subsequent waves. |
| Divine Gate 3 | Blessing | Base ATK, Base DEF, and Base HP + 15%. |
| Divine Gate 4 | Deathly Cinders | When any ally is currently not alive, C. DMG +40%. |
| Divine Gate 5 | Aura | Base ATK, Base DEF, and Base HP + 20%. |
| Divine Gate 6 | Reaper (Passive) – Morph 2 | New Effect – Reaper (Passive): At the start of combat, gains 10 Breath of the Deep stacks. |
| | | |
| --- | --- | --- |
| Divine Gate 1 | Thunderstorm – Aegis | Thunderstorm: Final Shield Strength +10%. |
| Divine Gate 2 | Thunderstorm – Morph | New Effect – Thunderstorm and God King – Thunderstorm: In normal mode, ally ACC +20%. In God King mode, ally C. RATE +20%. |
| Divine Gate 3 | Blessing | Base ATK, Base DEF, and Base HP + 15%. |
| Divine Gate 4 | Shimmering Light | Upon killing an enemy, heals Gaius. Healing: 30% Max HP. |
| Divine Gate 5 | Aura | Base ATK, Base DEF, and Base HP + 20%. |
| Divine Gate 6 | Thunder Judgment – Morph | Change – Thunder Judgment and God King – Judgment: Lightning summoning times changed to 6 times. |
| | | |
| --- | --- | --- |
| Divine Gate 1 | Fury of the Waters – Overload | Fury of the Waters: Final Damage +10%. |
| Divine Gate 2 | Tsunami (Passive) – Morph | Change – Tsunami (Passive): Targets dispelled changed to 2. |
| Divine Gate 3 | Blessing | Base ATK, Base DEF, and Base HP + 15%. |
| Divine Gate 4 | Preemptive Strike | For the 1st active ability Biodina casts in battle, its damage +15%. |
| Divine Gate 5 | Aura | Base ATK, Base DEF, and Base HP + 20%. |
| Divine Gate 6 | Fury of the Waters – Morph | New Effect – Fury of the Waters: Ignoring DEF no longer has a condition. |
| | | |
| --- | --- | --- |
| Divine Gate 1 | Rush – Overload | Rush: Final Damage +10%. |
| Divine Gate 2 | Broadside – Morph | New Effect – Broadside: Each 1 SPD grants ATK +0.33% to each attack. |
| Divine Gate 3 | Blessing | Base ATK, Base DEF, and Base HP + 15%. |
| Divine Gate 4 | Self Sacrifice | When attacking, consumes 5% Max HP and deals True Damage. True Damage: 100% of consumed HP |
| Divine Gate 5 | Aura | Base ATK, Base DEF, and Base HP + 20%. |
| Divine Gate 6 | Rush – Morph | Change – Rush (Passive): Immunity extended to 3 turns. (Ascension Phase 3 must be completed first.) |
| | | |
| --- | --- | --- |
| Divine Gate 1 | Deadly Sear – Overload | Deadly Sear: Final Damage +10%. |
| Divine Gate 2 | Deathly Cinders | When any ally is currently not alive, C. DMG +30%. |
| Divine Gate 3 | Blessing | Base ATK, Base DEF, and Base HP + 10%. |
| Divine Gate 4 | Vital Edge | When the target's HP is above 50%, damage +10%. |
| Divine Gate 5 | Aura | Base ATK, Base DEF, and Base HP + 10%. |
| Divine Gate 6 | Covenant | Base ATK, Base DEF, and Base HP + 15%. |

| | | |
| --- | --- | --- |
| Divine Gate 1 | Downfall – Overload | Downfall: Final Damage +10%. |
| Divine Gate 2 | Divine Resilience | When attacked by a critical hit, damage -10%. |
| Divine Gate 3 | Blessing | Base ATK, Base DEF, and Base HP + 10%. |
| Divine Gate 4 | Life Flux | When the target's HP is below 40%, Healing +10%. |
| Divine Gate 5 | Aura | Base ATK, Base DEF, and Base HP + 10%. |
| Divine Gate 6 | Covenant | Base ATK, Base DEF, and Base HP + 15%. |
| | | |
| --- | --- | --- |
| Divine Gate 1 | Ode To Joy – Remedy | Ode To Joy: Final Healing +10%. |
| Divine Gate 2 | Universal – Morph | New Effect – Universal: Heals all allies. Healing: 15% of the target's Max HP. |
| Divine Gate 3 | Blessing | Base ATK, Base DEF, and Base HP + 15%. |
| Divine Gate 4 | Wind Guardian | Incapacitated allies' SPD +15. |
| Divine Gate 5 | Aura | Base ATK, Base DEF, and Base HP + 20%. |
| Divine Gate 6 | Ode To Joy – Morph | Change – Ode To Joy: Sally can take action while it's in effect. Gains Sweet Harvest for 1 turn at the start of combat. |
| | | |
| --- | --- | --- |
| Divine Gate 1 | Stardust – Overload | Stardust: Final Damage +10%. |
| Divine Gate 2 | Resilient Spirit | When Incapacitated, Damage Taken -16%. |
| Divine Gate 3 | Blessing | Base ATK, Base DEF, and Base HP + 10%. |
| Divine Gate 4 | Law of Conjunction | When granting buffs, each buff heals Ye Suhua. Healing: 2% Max HP, up to 8% per turn. |
| Divine Gate 5 | Aura | Base ATK, Base DEF, and Base HP + 10%. |
| Divine Gate 6 | Covenant | Base ATK, Base DEF, and Base HP + 15%. |
| | | |
| --- | --- | --- |
| Divine Gate 1 | Law of Duat – Overload | Law of Duat: Final Damage +10%. |
| Divine Gate 2 | Salvific Judgments (Passive) – Morph | Change – Salvific Judgments (Passive): Invincibility and Recovery extended to 2 turns. |
| Divine Gate 3 | Blessing | Base ATK, Base DEF, and Base HP + 15%. |
| Divine Gate 4 | Rock Solid | Damage Taken -20% (expires upon gaining a turn for the first time in combat). |
| Divine Gate 5 | Aura | Base ATK, Base DEF, and Base HP + 20%. |
| Divine Gate 6 | Law of Duat – Morph | New Effect – Law of Duat: Upon a Crit, Salvific Judgments (Passive) Cooldown -1 turn. |
| | | |
| --- | --- | --- |
| Divine Gate 1 | Gale Force – Overload | Gale Force: Final Damage +10%. |
| Divine Gate 2 | Gale Force – Morph | New Effect – Gale Force: Grants ATK Up to all allies for 2 turns. |
| Divine Gate 3 | Blessing | Base ATK, Base DEF, and Base HP + 15%. |
| Divine Gate 4 | Wild Expulsion | Upon a Crit, 20% chance of dispelling 1 buff from the target. |
| Divine Gate 5 | Aura | Base ATK, Base DEF, and Base HP + 20%. |
| Divine Gate 6 | Follow the Wind – Morph | New Effect – Follow the Wind: Upon a Crit, all allies' AP +5%. |
| | | |
| --- | --- | --- |
| Divine Gate 1 | Ruler of Dendera – Overload | Ruler of Dendera: Final Damage +10%. |
| Divine Gate 2 | Power Suppression | When at an elemental advantage, damage +12%. |
| Divine Gate 3 | Blessing | Base ATK, Base DEF, and Base HP + 15%. |
| Divine Gate 4 | Vital Edge | When the target's HP is above 50%, damage +12%. |
| Divine Gate 5 | Aura | Base ATK, Base DEF, and Base HP + 20%. |
| Divine Gate 6 | Eye of the Goddess – Morph | Change – Eye of the Goddess: Inflicting ATK Down no longer has a condition. |
| | | |
| --- | --- | --- |
| Divine Gate 1 | Doom Box – Overload | Doom Box: Final Damage +10%. |
| Divine Gate 2 | Targeted Constraints | Each surviving enemy grants ACC +5% to Anesidora. |
| Divine Gate 3 | Blessing | Base ATK, Base DEF, and Base HP + 15%. |
| Divine Gate 4 | Speed Boost | When any ally is currently not alive, SPD +25. |
| Divine Gate 5 | Aura | Base ATK, Base DEF, and Base HP + 20%. |
| Divine Gate 6 | Doom Box – Morph | Change – Doom Box: Stun extended to 2 turns. (Ascension Phase 3 must be completed first.) |
| | | |
| --- | --- | --- |
| Divine Gate 1 | Under the Moon – Overload | Under the Moon: Final Damage +10%. |
| Divine Gate 2 | Divine Resilience | When attacked by a critical hit, damage -10%. |
| Divine Gate 3 | Blessing | Base ATK, Base DEF, and Base HP + 10%. |
| Divine Gate 4 | Hasty Action | If there is an ability on cooldown, SPD +16. |
| Divine Gate 5 | Aura | Base ATK, Base DEF, and Base HP + 10%. |
| Divine Gate 6 | Covenant | Base ATK, Base DEF, and Base HP + 15%. |
| | | |
| --- | --- | --- |
| Divine Gate 1 | Lightpulse – Overload | Lightpulse: Final Damage +10%. |
| Divine Gate 2 | Lightpulse – Morph | New Effect – Lightpulse: If the target has 0 AP, inflicts Stun on the target for 1 turn. |
| Divine Gate 3 | Blessing | Base ATK, Base DEF, and Base HP + 15%. |
| Divine Gate 4 | Rock Solid | Damage Taken -20% (expires upon gaining a turn for the first time in combat). |
| Divine Gate 5 | Aura | Base ATK, Base DEF, and Base HP + 20%. |
| Divine Gate 6 | Pillar of Light – Morph | Change – Pillar of Light: The final hit's AP reduction has been changed to AP absorption. |
| | | |
| --- | --- | --- |
| Divine Gate 1 | Beat Burst – Overload | Beat Burst: Final Damage +10%. |
| Divine Gate 2 | Targeted Constraints | Each surviving enemy grants ACC +4% to Jeanne. |
| Divine Gate 3 | Blessing | Base ATK, Base DEF, and Base HP + 10%. |
| Divine Gate 4 | Feral Retribution | When the target is Incapacitated, damage +10%. |
| Divine Gate 5 | Aura | Base ATK, Base DEF, and Base HP + 10%. |
| Divine Gate 6 | Covenant | Base ATK, Base DEF, and Base HP + 15%. |
| | | |
| --- | --- | --- |
| Divine Gate 1 | Incorporeal – Overload | Incorporeal: Final Damage +10%. |
| Divine Gate 2 | Life Flux | When the target's HP is below 40%, Healing +10%. |
| Divine Gate 3 | Blessing | Base ATK, Base DEF, and Base HP + 10%. |
| Divine Gate 4 | Rampage Pursuit | When the target's HP is below 50%, damage +10%. |
| Divine Gate 5 | Aura | Base ATK, Base DEF, and Base HP + 10%. |
| Divine Gate 6 | Covenant | Base ATK, Base DEF, and Base HP + 15%. |
| | | |
| --- | --- | --- |
| Divine Gate 1 | Star Stream – Overload | Star Stream: Final Damage +10%. |
| Divine Gate 2 | Resilient Spirit | When Incapacitated, Damage Taken -18%. |
| Divine Gate 3 | Blessing | Base ATK, Base DEF, and Base HP + 15%. |
| Divine Gate 4 | Law of Conjunction | When granting buffs, each buff heals Alice. Healing: 2.5% Max HP, up to 10% per turn. |
| Divine Gate 5 | Aura | Base ATK, Base DEF, and Base HP + 20%. |
| Divine Gate 6 | Star Stream – Morph | New Effect – Star Stream: Assisting allies' AP +20%. |
| | | |
| --- | --- | --- |
| Divine Gate 1 | Disputational – Overload | Disputational: Final Damage +10%. |
| Divine Gate 2 | Pressure Vitals | Upon successfully dispelling or stealing buffs, each buff inflicts Max HP Capacity -6% on the target, up to -12% per turn. |
| Divine Gate 3 | Blessing | Base ATK, Base DEF, and Base HP + 15%. |
| Divine Gate 4 | Defense Intrusion | When attacking, 18% chance of ignoring RESIST. |
| Divine Gate 5 | Aura | Base ATK, Base DEF, and Base HP + 20%. |
| Divine Gate 6 | Misfortuned – Morph | New Effect – Misfortuned: Upon successfully inflicting Stun, all Ability Cooldowns of the target +1 turn. Triggers 1 time per turn. |
| | | |
| --- | --- | --- |
| Divine Gate 1 | Sneak Attack – Overload | Sneak Attack: Final Damage +10%. |
| Divine Gate 2 | Vital Life | When HP is below 40%, Healing Received and Shield Strength +12%. |
| Divine Gate 3 | Blessing | Base ATK, Base DEF, and Base HP + 15%. |
| Divine Gate 4 | Rock Solid | Damage Taken -18% (expires upon gaining a turn for the first time in combat). |
| Divine Gate 5 | Aura | Base ATK, Base DEF, and Base HP + 20%. |
| Divine Gate 6 | Umbra Attack – Morph | New Effect – Umbra Attack: Upon successfully inflicting Freeze, steals 10% of the target's AP. |
| | | |
| --- | --- | --- |
| Divine Gate 1 | Queen's Blessing – Remedy | Queen's Blessing: Final Healing +10%. |
| Divine Gate 2 | Hymn of Life – Morph | Change – Hymn of Life: Immunity extended to 2 turns. |
| Divine Gate 3 | Blessing | Base ATK, Base DEF, and Base HP + 15%. |
| Divine Gate 4 | Reinforced Barrier | Grants Base DEF +20% to allies with Shield. |
| Divine Gate 5 | Aura | Base ATK, Base DEF, and Base HP + 20%. |
| Divine Gate 6 | Queen's Blessing – Morph | Change – Queen's Blessing: Healing times changed to 3 times. |

| | | |
| --- | --- | --- |
| Divine Gate 1 | Power Impact – Overload | Power Impact: Final Damage +10%. |
| Divine Gate 2 | Deathly Cinders | When any ally is currently not alive, C. DMG +35%. |
| Divine Gate 3 | Blessing | Base ATK, Base DEF, and Base HP + 15%. |
| Divine Gate 4 | Vital Edge | When the target's HP is above 50%, damage +12%. |
| Divine Gate 5 | Aura | Base ATK, Base DEF, and Base HP + 20%. |
| Divine Gate 6 | Soul Blast – Morph | New Effect – Soul Blast: Gains Shield for 2 turns. Shield Strength: 25% of this ability's damage. |
| | | |
| --- | --- | --- |
| Divine Gate 1 | Netherworld Hurl – Overload | Netherworld Hurl: Final Damage +10%. |
| Divine Gate 2 | Power Suppression | When at an elemental advantage, damage +12%. |
| Divine Gate 3 | Blessing | Base ATK, Base DEF, and Base HP + 15%. |
| Divine Gate 4 | Field of Thorns | If attacking an enemy while not in Xie Chuyi's turn, damage +12%. |
| Divine Gate 5 | Aura | Base ATK, Base DEF, and Base HP + 20%. |
| Divine Gate 6 | Netherworld Hurl – Morph | Change – Netherworld Hurl: Target for C. RATE Up changed to all allies.  |
| | | |
| --- | --- | --- |
| Divine Gate 1 | Heaven Awaits – Overload | Heaven Awaits: Final Damage +10%. |
| Divine Gate 2 | Feral Retribution | When the target is Incapacitated, damage +12%. |
| Divine Gate 3 | Blessing | Base ATK, Base DEF, and Base HP + 15%. |
| Divine Gate 4 | Defense Intrusion | When attacking, 18% chance of ignoring RESIST. |
| Divine Gate 5 | Aura | Base ATK, Base DEF, and Base HP + 20%. |
| Divine Gate 6 | Heaven Awaits – Morph | Change – Heaven Awaits: Target for SPD Up changed to all allies.  |
| | | |
| --- | --- | --- |
| Divine Gate 1 | Spiral Strike – Overload | Spiral Strike: Final Damage +10%. |
| Divine Gate 2 | Law of Conjunction | When granting buffs, each buff heals Nicole. Healing: 2.5% Max HP, up to 10% per turn. |
| Divine Gate 3 | Blessing | Base ATK, Base DEF, and Base HP + 15%. |
| Divine Gate 4 | Rock Solid | Damage Taken -18% (expires upon gaining a turn for the first time in combat). |
| Divine Gate 5 | Aura | Base ATK, Base DEF, and Base HP + 20%. |
| Divine Gate 6 | Dead Man's Protection – Morph | New Effect – Dead Man's Protection: Dispels all debuffs from the target. |
| | | |
| --- | --- | --- |
| Divine Gate 1 | Gemstone Feathers – Overload | Gemstone Feathers: Final Damage +10%. |
| Divine Gate 2 | Gemstone Feathers – Morph | Change – Gemstone Feathers: Healing Cecilia changed to healing both Cecilia and the ally with the lowest HP percentage. |
| Divine Gate 3 | Blessing | Base ATK, Base DEF, and Base HP + 15%. |
| Divine Gate 4 | Speed Boost | When any ally is currently not alive, SPD +30. |
| Divine Gate 5 | Aura | Base ATK, Base DEF, and Base HP + 20%. |
| Divine Gate 6 | Crimson Protection – Morph | Change – Crimson Protection: Revived allies' AP Boost changed to 100%. |
| | | |
| --- | --- | --- |
| Divine Gate 1 | Iron Wall – Aegis | Iron Wall: Final Shield Strength +10%. |
| Divine Gate 2 | Vital Life | When HP is below 40%, Healing Received and Shield Strength +12%. |
| Divine Gate 3 | Blessing | Base ATK, Base DEF, and Base HP + 15%. |
| Divine Gate 4 | Protective Shield | When granting a Shield, Shield Strength +25% |
| Divine Gate 5 | Aura | Base ATK, Base DEF, and Base HP + 20%. |
| Divine Gate 6 | Shield Attack – Morph | New Effect – Shield Attack: Laura's AP +30%. |
| | | |
| --- | --- | --- |
| Divine Gate 1 | Guardian Vine – Storming | Guardian Vine: AP Boost changed to 20%. |
| Divine Gate 2 | Earth's Blessing – Morph | Change – Earth's Blessing: ATK Up and SPD Up extended to 3 turns. |
| Divine Gate 3 | Blessing | Base ATK, Base DEF, and Base HP + 15%. |
| Divine Gate 4 | Hasty Action | If there is an ability on cooldown, SPD +20. |
| Divine Gate 5 | Aura | Base ATK, Base DEF, and Base HP + 20%. |
| Divine Gate 6 | Wrath of the World – Morph | Change – Wrath of the World: Stun extended to 2 turns. |
| | | |
| --- | --- | --- |
| Divine Gate 1 | Hand of Scylla – Remedy | Hand of Scylla: Final Healing +10%. |
| Divine Gate 2 | Vital Edge | When the target's HP is above 50%, damage +12%. |
| Divine Gate 3 | Blessing | Base ATK, Base DEF, and Base HP + 15%. |
| Divine Gate 4 | Life Flux | When the target's HP is below 40%, Healing +12%. |
| Divine Gate 5 | Aura | Base ATK, Base DEF, and Base HP + 20%. |
| Divine Gate 6 | Hand of Scylla – Morph | New Effect – Hand of Scylla: 50% of this ability's excess healing amount is converted into Shield that lasts for 2 turns. |
| | | |
| --- | --- | --- |
| Divine Gate 1 | Dance of Deluge – Overload | Dance of Deluge: Final Damage +10%. |
| Divine Gate 2 | Feral Retribution | When the target is Incapacitated, damage +12%. |
| Divine Gate 3 | Blessing | Base ATK, Base DEF, and Base HP + 15%. |
| Divine Gate 4 | Wild Expulsion | Upon a Crit, 18% chance of dispelling 1 buff from the target. |
| Divine Gate 5 | Aura | Base ATK, Base DEF, and Base HP + 20%. |
| Divine Gate 6 | Criss Cross – Morph | Change – Criss Cross: Reducing AP changed to absorbing AP. |
| | | |
| --- | --- | --- |
| Divine Gate 1 | Heavenly Justice – Overload | Heavenly Justice: Final Damage +10%. |
| Divine Gate 2 | Hasty Action | If there is an ability on cooldown, SPD +18. |
| Divine Gate 3 | Blessing | Base ATK, Base DEF, and Base HP + 15%. |
| Divine Gate 4 | Defense Intrusion | When attacking, 18% chance of ignoring RESIST. |
| Divine Gate 5 | Aura | Base ATK, Base DEF, and Base HP + 20%. |
| Divine Gate 6 | Abjure Evil – Morph | Change – Abjure Evil: Dispelling is effective for every hit. |
| | | |
| --- | --- | --- |
| Divine Gate 1 | Neko-Giftbox – Overload | Neko-Giftbox: Final Damage +10%. |
| Divine Gate 2 | Neko-Giftbox – Morph 1 | Change – Neko-Giftbox: The condition for triggering and removing Neko-Curse has been changed to when an enemy with Neko-Giftbox is attacked by Tevor. |
| Divine Gate 3 | Blessing | Base ATK, Base DEF, and Base HP + 15%. |
| Divine Gate 4 | Preemptive Strike | For the 1st active ability Tevor casts in battle, its damage +15%. |
| Divine Gate 5 | Aura | Base ATK, Base DEF, and Base HP + 20%. |
| Divine Gate 6 | Neko-Giftbox – Morph 2 | New Effect – Neko-Giftbox: Before attacking, inflicts DEF Down on the target for 2 turns. |
| | | |
| --- | --- | --- |
| Divine Gate 1 | Warm Harmonics (Passive) – Remedy | Warm Harmonics (Passive): Final Healing +10%. |
| Divine Gate 2 | Warm Harmonics (Passive) – Morph1 | New Effect – Warm Harmonics (Passive): Each Supporting Song stack grants SPD +2. |
| Divine Gate 3 | Blessing | Base ATK, Base DEF, and Base HP + 15%. |
| Divine Gate 4 | Hasty Action | If there is an ability on cooldown, SPD +20. |
| Divine Gate 5 | Aura | Base ATK, Base DEF, and Base HP + 20%. |
| Divine Gate 6 | Warm Harmonics (Passive) – Morph2 | New Effect – Warm Harmonics (Passive): When an ally with HP below 30% is attacked, attacks the attacker. |
| | | |
| --- | --- | --- |
| Divine Gate 1 | Earth Shatter – Overload | Earth Shatter: Final Damage +10%. |
| Divine Gate 2 | Sky Smash – Morph | New Effect – Sky Smash: Inflicts Sear on the target for 2 turns. |
| Divine Gate 3 | Blessing | Base ATK, Base DEF, and Base HP + 15%. |
| Divine Gate 4 | Shimmering Light | Upon killing an enemy, heals Jiang Jiuli. Healing: 30% Max HP. |
| Divine Gate 5 | Aura | Base ATK, Base DEF, and Base HP + 20%. |
| Divine Gate 6 | Demon Reborn (Passive) – Morph | New Effect – Demon Reborn (Passive): Targets killed in Demon Mode can't be revived. |
| | | |
| --- | --- | --- |
| Divine Gate 1 | Frost Glory – Overload | Frost Glory: Final Damage +10%. |
| Divine Gate 2 | Feral Retribution | When the target is Incapacitated, damage +12%. |
| Divine Gate 3 | Blessing | Base ATK, Base DEF, and Base HP + 15%. |
| Divine Gate 4 | Accurate Aim | When the target is not buffed, Aurelius's Miss Rate -25%. |
| Divine Gate 5 | Aura | Base ATK, Base DEF, and Base HP + 20%. |
| Divine Gate 6 | Icebreak Fury – Morph | Change – Icebreak Fury: No longer removes Freeze from the target. |
| | | |
| --- | --- | --- |
| Divine Gate 1 | Keen Edge – Overload | Keen Edge: Final Damage +10%. |
| Divine Gate 2 | Galactic Rush – Morph | New Effect – Galactic Rush: Inflicts DEF Down on the target for 2 turns. |
| Divine Gate 3 | Blessing | Base ATK, Base DEF, and Base HP + 15%. |
| Divine Gate 4 | Divine Strike | After casting a non-basic ability, the next basic ability's damage +30%. |
| Divine Gate 5 | Aura | Base ATK, Base DEF, and Base HP + 20%. |
| Divine Gate 6 | Keen Edge – Morph | New Effect – Keen Edge: When an ally attacks, Zora has a 15% chance of assisting with Keen Edge. |

| | | |
| --- | --- | --- |
| Divine Gate 1 | Time Vortex – Overload | Time Vortex: Final Damage +10%. |
| Divine Gate 2 | Power Suppression | When at an elemental advantage, damage +12%. |
| Divine Gate 3 | Blessing | Base ATK, Base DEF, and Base HP + 15%. |
| Divine Gate 4 | Berserker Drain | When HP is below 60%, Lifesteal amount +12%. |
| Divine Gate 5 | Aura | Base ATK, Base DEF, and Base HP + 20%. |
| Divine Gate 6 | Soundly Dreams – Morph | New Effect – Soundly Dreams: Upon failing to inflict Sleep, damage +30%. After attacking, heals Stewart. Healing: 30% Max HP. |
| | | |
| --- | --- | --- |
| Divine Gate 1 | Skyfall – Overload | Skyfall: Final Damage +10%. |
| Divine Gate 2 | Pressure Vitals | Upon successfully dispelling or stealing buffs, each buff inflicts Max HP Capacity -6% on the target, up to -12% per turn. |
| Divine Gate 3 | Blessing | Base ATK, Base DEF, and Base HP + 15%. |
| Divine Gate 4 | Accurate Aim | When the target is not buffed, Nick's Miss Rate -25%. |
| Divine Gate 5 | Aura | Base ATK, Base DEF, and Base HP + 20%. |
| Divine Gate 6 | Skyfall – Morph | New Effect – Skyfall: Dispels +1 buff from the target. |
| | | |
| --- | --- | --- |
| Divine Gate 1 | Blossom Sword – Overload | Blossom Sword: Final Damage +10%. |
| Divine Gate 2 | Power Suppression | When at an elemental advantage, damage +12%. |
| Divine Gate 3 | Blessing | Base ATK, Base DEF, and Base HP + 15%. |
| Divine Gate 4 | Divine Reaction | Each buff on Xiao Yin increases his damage by +2.5%; can be stacked up to +10%. |
| Divine Gate 5 | Aura | Base ATK, Base DEF, and Base HP + 20%. |
| Divine Gate 6 | Blossom Sword – Morph | New Effect – Blossom Sword: When reducing the target's AP to 50%, Xiao Yin's AP +50%. Triggers 1 time per turn. |
| | | |
| --- | --- | --- |
| Divine Gate 1 | Pure Enlightenment – Overload | Pure Enlightenment: Final Damage +10%. |
| Divine Gate 2 | Sharp Stratagem – Morph | New Effect – Sharp Stratagem: Upon successfully inflicting Taunt, all Ability Cooldowns of the target +1 turn. |
| Divine Gate 3 | Blessing | Base ATK, Base DEF, and Base HP + 15%. |
| Divine Gate 4 | Self Sacrifice | When attacking, consumes 5% Max HP and deals True Damage. True Damage: 200% of consumed HP |
| Divine Gate 5 | Aura | Base ATK, Base DEF, and Base HP + 20%. |
| Divine Gate 6 | Pure Enlightenment – Morph | New Effect – Pure Enlightenment: This ability can't be resisted. |
| | | |
| --- | --- | --- |
| Divine Gate 1 | HAHAHA! – Overload | HAHAHA!: Final Damage +10%. |
| Divine Gate 2 | Eat This! – Morph | New Effect – Eat This!: At the start of combat, gains 3 Reload! Attack! stack. |
| Divine Gate 3 | Blessing | Base ATK, Base DEF, and Base HP + 15%. |
| Divine Gate 4 | Field of Thorns | If attacking an enemy while not in Brewster's turn, damage +15%. |
| Divine Gate 5 | Aura | Base ATK, Base DEF, and Base HP + 20%. |
| Divine Gate 6 | HAHAHA! – Morph | New Effect – HAHAHA!: When the target's Max HP is above Brewster's, damage +10%. Attacks deal Splash Damage to 1 random enemy. Splash Damage: 50% ATK. |
| | | |
| --- | --- | --- |
| Divine Gate 1 | Rose Blessing – Aegis | Rose Blessing: Final Shield Strength +10%. |
| Divine Gate 2 | Rose Blessing – Morph | New Effect – Rose Blessing: Dispels all debuffs from Abigail. |
| Divine Gate 3 | Blessing | Base ATK, Base DEF, and Base HP + 15%. |
| Divine Gate 4 | Law of Conjunction | When granting buffs, each buff heals Abigail. Healing: 3% Max HP, up to 12% per turn. |
| Divine Gate 5 | Aura | Base ATK, Base DEF, and Base HP + 20%. |
| Divine Gate 6 | Queen's Gift – Morph | New Effect – Queen's Gift: Absorb extended to 3 turns. |
| | | |
| --- | --- | --- |
| Divine Gate 1 | Dazzling Sunfire – Overload | Dazzling Sunfire: Final Damage +10%. |
| Divine Gate 2 | Power Suppression | When at an elemental advantage, damage +12%. |
| Divine Gate 3 | Blessing | Base ATK, Base DEF, and Base HP + 15%. |
| Divine Gate 4 | Hasty Action | If there is an ability on cooldown, SPD +18. |
| Divine Gate 5 | Aura | Base ATK, Base DEF, and Base HP + 20%. |
| Divine Gate 6 | Fetching Fire – Morph | New Effect – Fetching Fire: Upon successfully stealing a buff, all Ability Cooldowns of Li Guang -1 turn. Triggers 1 time per turn. |
| | | |
| --- | --- | --- |
| Divine Gate 1 | Valkyrie's Glory – Overload | Valkyrie's Glory: Final Damage +10%. |
| Divine Gate 2 | Valkyrie's Glory – Morph | Change – Valhalla Guardian: Everett also gains DMG Mitigation effects. |
| Divine Gate 3 | Blessing | Base ATK, Base DEF, and Base HP + 15%. |
| Divine Gate 4 | Divine Reaction | Each buff on Everett increases his damage by +3%; can be stacked up to +12%. |
| Divine Gate 5 | Aura | Base ATK, Base DEF, and Base HP + 20%. |
| Divine Gate 6 | Valhalla Guardian – Morph | New Effect – Valhalla Guardian: Upon a counterattack, heals all allies. Healing: 15% of this attack's damage. |
| | | |
| --- | --- | --- |
| Divine Gate 1 | Elegant Strike – Overload | Elegant Strike: Final Damage +10%. |
| Divine Gate 2 | Heartless Reaper – Morph | New Effect – Heartless Reaper: When the target isn't killed, gains Shield for 2 turns. Shield Strength: 20% Max HP. |
| Divine Gate 3 | Blessing | Base ATK, Base DEF, and Base HP + 15%. |
| Divine Gate 4 | Shimmering Light | Upon killing an enemy, heals Ophelia. Healing: 30% Max HP. |
| Divine Gate 5 | Aura | Base ATK, Base DEF, and Base HP + 20%. |
| Divine Gate 6 | Butterfly Dreams – Morph | Change – Butterfly Dreams: Max pursuit times increased to 4 times. |
| | | |
| --- | --- | --- |
| Divine Gate 1 | Bitter Cold World – Overload | Bitter Cold World: Final Damage +10%. |
| Divine Gate 2 | Vital Life | When HP is below 40%, Healing Received and Shield Strength +12%. |
| Divine Gate 3 | Blessing | Base ATK, Base DEF, and Base HP + 15%. |
| Divine Gate 4 | Resilient Spirit | When Incapacitated, Damage Taken -18%. |
| Divine Gate 5 | Aura | Base ATK, Base DEF, and Base HP + 20%. |
| Divine Gate 6 | Bitter Cold World – Morph | New Effect – Bitter Cold World: Gains Invincibility for 1 turn. |
| | | |
| --- | --- | --- |
| Divine Gate 1 | Divine Retribution – Overload | Divine Retribution: Final Damage +10%. |
| Divine Gate 2 | Daring Spirit – Morph | New Effect – Daring Spirit: Grants Shield to all allies for 1 turn. Shield Strength:50% of Ashley's ATK. |
| Divine Gate 3 | Blessing | Base ATK, Base DEF, and Base HP + 15%. |
| Divine Gate 4 | Targeted Constraints | Each surviving enemy grants Acc +6% to Ashley. |
| Divine Gate 5 | Aura | Base ATK, Base DEF, and Base HP + 20%. |
| Divine Gate 6 | Cloud Scatter – Morph | Change – Cloud Scatter: Gains 1 Bifrost stack. |
| | | |
| --- | --- | --- |
| Divine Gate 1 | Gust – Overload | Gust: Final Damage +10%. |
| Divine Gate 2 | Sludge Bomb – Morph | Change – Sludge Bomb: Poison and ATK Down extended to 3 turns. |
| Divine Gate 3 | Blessing | Base ATK, Base DEF, and Base HP + 15%. |
| Divine Gate 4 | Accurate Aim | When the target is not buffed, Ife's Miss Rate -30%. |
| Divine Gate 5 | Aura | Base ATK, Base DEF, and Base HP + 20%. |
| Divine Gate 6 | Tail Whip – Morph | Change – Tail Whip: Launching a pursuit attack changed to gaining 1 turn. |
| | | |
| --- | --- | --- |
| vine Gate 1 | Sparkling Stage – Remedy | Sparkling Stage: Final Healing +10%. |
| Divine Gate 2 | Trio of Destiny – Morph 1 | New Effect – Trio of Destiny: Each hit has a 50% chance of inflicting Miss Rate Up on the target for 2 turns. |
| Divine Gate 3 | Blessing | Base ATK, Base DEF, and Base HP + 15%. |
| Divine Gate 4 | Law of Conjunction | When granting buffs, each buff heals the Fatum Sisters. Healing: 3% Max HP, up to 12% per turn. |
| Divine Gate 5 | Aura | Base ATK, Base DEF, and Base HP + 20%. |
| Divine Gate 6 | Trio of Destiny – Morph 2 | Change – Trio of Destiny: AP reduction takes effect in both hits. |