Ahmed


Reliable like the earth itself, Ahmed uses the powers of Geb to heat those around him.

summary
Ahmed is a support Esper who can frequently heal allies and enhance their ATK.
Prelude To Life attacks an enemy three times. Each hit heals an ally. World Stage performs a single-target heal 10 times, and reduces allied Espers' ability cooldowns. Warm Harmonics is Ahmed's core power. Each time Ahmed actively casts a healing ability, he passively heals the ally with the lowest HP%. It restores the target's max HP threshold, and grants 1 stack of Supporting Song that boosts their ATK; if the target is below 50% HP, it grants 1 more stack of Supporting Song. After ascension, Ahmed will dispel the target's Diseased effects before healing.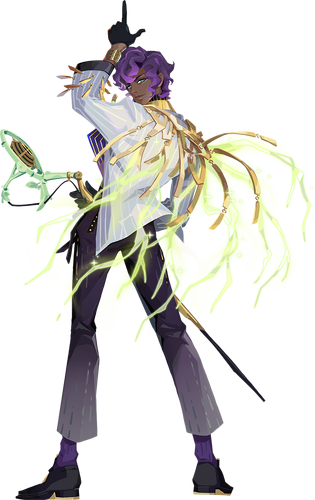 Ratings
Recommended sets
Abiding Panacea Set x4
+30% Healing Efficacy.
Wind Walker Set x4
+25% SPD
Sword Avatara Set x2
25% chance of using the basic ability to counterattack upon taking damage.
Master Grove Set x2
+25% HP
Recommended Resonance
HP
Life Flux: IF the target's HP is below 40%, target's healing efficacy +5
Accurate Aim: If the target isn't buffed Miss Rate: -15%
Crisis Response: If HP is below 50%, all allies' damage +2%, up to +6%
Targeted Constraints: Each surviving enemy grants ACC +2%
Law of Conjunction: When granting a buff, each buff restores one's own HP equal to 1% max HP, up to 3% max HP per turn
Self Sacrifice: When attacking, consumes 5% max HP (won't die), and deals True Damage equal to 50% of consumed HP
skills

Prelude To Life
Attacks an enemy 3 times, each time dealing damage equal to 15% of his ATK, plus 2% pf max HP. Heals an ally for 4% of the caster's max HP.

Warm Harmonics
Heals the ally with the lowest HP percentage every time. For every 1% max HP they lose, increases the healing amount by 0.5%. Dispels from the ally. Diseased If they suffer from a max HP penalty, restores their max HP threshold by 5%. Upon healing, grants 1 Supporting Song stack to the ally. If ally HP is below 50%, grants 1 more Supporting Song stack.
Supporting Song: (Undispellable) Grants 4% of base ATK boost per stack (max 15 stacks).

World Stage
Reduces all allies' ability cooldowns by 1 turn, and performs a single-target heal 10 times. Each heal targets the lowest HP ally, restoring their HP equal to 8% of the caster's HP. Not affected by cooldown
buffs/debuffs.
Cooldown: 4 turns

Captain Ability
Increases ally HP by 30%.