Intisar


With the divine power of Kauket, Intisar decides to continue on even in the dark.

summary
Intisar is a strong Fighter who can protect herself with Stealth. Code Exploit attacks 1 enemy and inflicts Miss Rate Up. Trojan Horse attacks all enemies and extends all their debuffs except for Incapacitation. At the start of combat, it grants Intisar Stealth for 2 turns. Transmit Virus first attacks 1 enemy 2 times and inflicts DEF Down. Then, it attacks all enemies and inflicts ATK Down. Then, Intisar gains Stealth for 3 turns. If she has Stealth, it reduces Stealth duration to deal extra True Damage.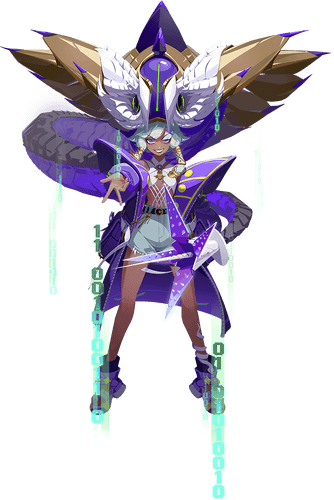 Ratings
Recommended sets
Hammer of Thor Set x4
+40% C.DMG
War Machine Set x4
+30% ATK
Incandescence Set x2
+20% Crit Rate
Incandescence Set x2
+20% Crit Rate
skills

Code Exploit
Attacks 1 enemy. Damage: 120% ATK.
80% chance of inflicting Miss Rate Up for 2 turns. When without Stealth, launches a pursuit attack with Transmit Virus.

Trojan Horse
Attacks all enemies. Damage: 85% ATK.
The fewer the enemies, the higher the damage.
Enemy debuffs +1 turn (besides Incapacitation).
At the start of combat, gains Stealth for 2 turns.
Cooldown: 3 turns

Transmit Virus
Grants all allies ATK Up for 2 turns.
Attacks 1 enemy 2 times. Damage: 100% ATK. Inflicts DEF Down for 2 turns.
Next, attacks all enemies. Damage: 50% ATK. Inflicts ATK Down for 2 turns.
Then, gains Stealth for 3 turns.
If Intisar has Stealth, Stealth -1 turn to deal extra True Damage.
True Damage: 15% of the target's Max HP (Damage against Bosses: 3%). Triggers 1 time per turn.
Final Damage +10%.
Cooldown: 4 turns

Captain Ability
Increases ally C.RATE by 25%