If you are new to the game and are wondering which are the best Dislyte team formations right now, you will surely find some great example squads in this article.
Due to the natural of the game, each game mode might require different types of teams, debuffs, Espers, etc. So, we will try to mention the generic teams which are great but not the best for any specific game mode.
Best Dislyte Team Squads
| | |
| --- | --- |
| Team | Description |
| | Auto Kronos 16 |
| | Auto Kronos 16 |
| | Auto Kronos 16 |
| | Auto Kronos 16 |
| | F2P team with low investment (except Gabrielle). Melanie is one of the best AP Manipulators, but she needs ACC. Healers have DEF Down and AP Down to support Melanie. Berenice is for tanking with her shields. Li Ling can be replaced with Drew or Chloe. |
| | Speed comp which revolves around AP controlling and high DPS to take out Kronos fast. High investment required to survive.  |
| | Leon must have 70%+ ACC to land Sear. Huge damage with 4 DPS but need investment to survive due to the lack of healing and protection. Not recommend for early and mid-game players. |
| | Similar to the one above. |
| | Similar to the one above. |
| | F2P team with low investment (except Gabrielle). |
| | Freya buffs the leader with her A2. Turn order is Suhua > Freya > Xie Chuyi > Lin Xiao > Mona. Freya is on Astral Witchcraft for stuns. |
| | 2 AoE controllers to stop the followers from AP Up Kronos, while Sander locking down the Boss. Cheap starter comp for farming fodders in Kronos consistently. To farm K10, you might need maxed A3 for low cooldowns, 180+ SPD, and 60-80% ACC. |
| | Standard budget comp for Kronos. Sally can be replaced with other AoE Healers. Having enough HP to survive Kronos rock is the key. |
| | Similar to the one above and utilizes Tang Yun's pursuit mechanic. Having enough HP is the key to survive. Chang Pu can be replaced with other Healers. You can try to use HP% Relics when having troubles to survive. |
| | Heavy beatdown comp for late games. Not recommended for early/mid-game players. All Espers must be heavily invested. |
| | Relatively standard comp. Eira is for lowering AP. Dhalia is for AP Up and buffs. Lewis can be replaced with other DPS. |
| | Super high damage but requires high investment. Leon must have 70%+ ACC to land Sear. Chalmers needs to be the slowest unit to cast A3 after DEF Down from Drew. High investment, not for early/mid game players. |
| DPS DPS | Standard setup for Kronos with SPD Leader and AP Manipulation from Eira and Sander. Ye Suhua giving a lot of utilities. 2 DPS options are flexible. |
| | Donar is part of the few espers who can solo Kronos for farming XP. However, you need to heavily invest on him to solo. Very slow however, you cannot expect it to be any faster. |
| | This is a full F2P comp to be able to do K10 without a single gacha unit. Mona can be replaced with Tang Yun if he is tanky enough to live through a Kronos rock. Each of the Espers are tanky enough to live one rock from Kronos. |
| | Basic AP Manpulation comp with Chloe being the main DPS and Sander being used as a Sub DPS. Uses AP Push from Dhalia and AP down from Sander and Lucas. Enough HP to tank Kronos rocks on each Esper. |
| | |
| --- | --- |
| Team | Description |
| | Auto Apep 16 |
| | Auto Apep 16 |
| | Auto Apep 16 |
| | Simple but super effective. Farming and levelling up fodders at once. Not for new players however. |
| | Jacob and Alexa are the keys. Chloe does most damage while Jacob and Alexa slowly chipping down the boss. Unky Chai and Ye Suhua synergy together to reduce cooldowns. Low investment. |
| | Free-to-play team with low investment. All heroes are easy to obtain without much gacha. |
| | Beatdown comp which is made for high investment to take down Apep as fast as possible by making the most of single damage units. This team is not for beginners. |
| | Free to Play Team without Gacha units. It might take some time to get Gabrielle and Ye Suhua but you will eventually have them. Melanie takes 2 weeks doing Club Activities to obtain. Drew is not important and can be replaced with other DPS units. Sander can replace Melanie. Work well with Kronos 10 as well. |
| | Another archetype of a beatdown team  with Immunity from Gab, and utilities from Ye Suhua making it a very stable comp. Ye Suhua shouldn't be replaced. |
| | This comp works by stacking as many Poison debuffs as possible. Ye Suhua shouldn't be replaced. Q must be level 60 or have high HP. Around 90% winrate but low investment. |
| | Use Wind Walker on Berenice and Chang Pu. Use Master Grove on supports if needed. Tang Xuan uses ATK%, ATK% and HP% on the bottom relics. |
| | Mid-game team, focusing on getting Hyde to 50 stacks, making him unkillable. Berenice can be replaced with a DPS. |
| | Well-built Hyde is capable of being able to solo Apep while farming XP for 4 fodders. |
| | Well-built Clara is capable of being able to solo Apep while farming XP for 4 fodders. |
Team
Description

Auto Fafnir 16

Auto Fafnir 16

Auto Fafnir 16

Auto Fafnir 16

Auto Fafnir 16

Basic Dislyte team with multi hits from Espers running Wind Walker for more SPD. Gabrielle and Berenice give a lot of utilities. Tang Yun and Li Ling should equip Hades

Another multi-hit team which utilizes Unas for constant AP Up. All Espers must have 180+ SPD. DPS Espers should use SPD on MUI 2 slot.

Free-to-play team with easy to obtain Espers. Work flawlessly.

 

Gabrielle and Berenice need to move twice before Fafnir. All Espers should have HP% relics with 23K of Bonus HP. Lucas must have at least 19K bonus HP.

Another example for a multi-hit comp that uses Catherine and Berenice instead for safety. Can swap Lu Yi for Tang Yun. All must have high SPD (180+), and should have Avatara set on DPS only. If using Tang Yun in replacement of Lu Yi, he doesn't need speed.

This multi-hit team uses Catherine for more safety. Lu Yi can be replaced with Tang Yun ( Tang Yun doesn't need a lot of speed). All Espers must have 180+ SPD. DPS units should equip Avatara set.

Hyde can be replaced with Lu Yi. Tang Yun and Lu Yi don't need high SPD. Other Espers must have 180+ SPD. All should equip Avatara set. Hyde must have Hades as Berenice cannot heal him.

Xie Chuy must have high SPD and ATK. Xie Yuzhi needs a bit more damage because his AP Down and Stun don't work against Fafnir. Twins and Lu Yi must have Avatara with SPD on Mui 2. Twins should use Wind Walker.

This is a FULL AUTO Fafnir composition making use of the new esper Laura, set on auto priority on Fafnir, ignoring minions. Since this comp has 3 supports and only 2 DPS, everything needs to be done to maximize their output. While you can survive for a long time with this comp, you can't survive indefinitely especially if Fafnir crits or freezes a DPS Gabrielle should be an easy addition to the team for her ATK Down, DEF Down, and DEF Up buffs.

A Twins comp for Fafnir that is relatively consistent. SPD is a much more important stat than DPS on The Twins. Xie Chyui needs a little tank investment to be able to survive. Tang Yun can go for a DPS build but needs atleast 60+ bonus SPD. Catherine and Berenice will be the the sustain for the comp. Berenice needs to be as fast as possible with max skill ups and high HP. Xie Yuzhi needs his skills maxed as you want him to be casting his S1 the least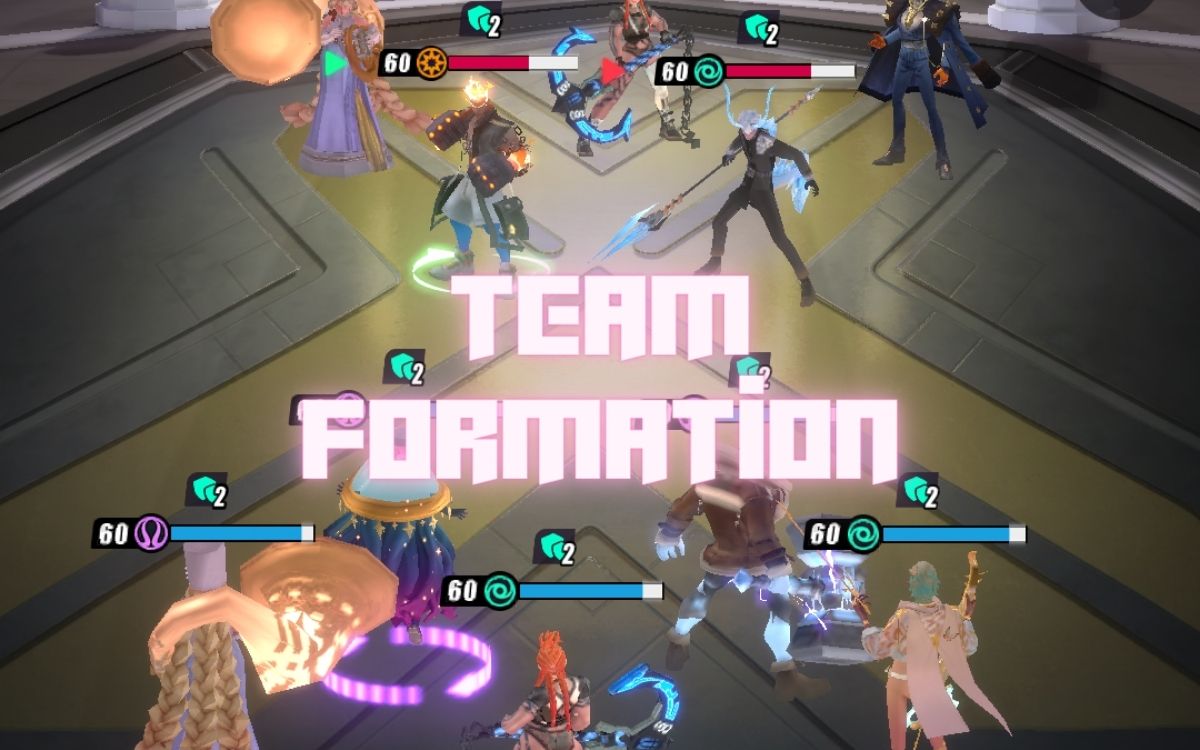 How to Make Your Own Dislyte Team Formation
There are a a lot of popular and well working Dislyte team compositions. To build your own ones, you might want to understand how the roles work, and which Espers are great for each role.
Squad Roles
Below are the roles required for a generic team composition. You can see which roles an Esper covers by looking at their Skills on our website via the All Espers section.
Single Target DPS to deal massive damage towards a specific target.
AoE DPS to deal damage to all enemies at once.
Single Target Heal: To deal with high damage single target attacks
AoE Heal: To heal up after attacks hit the entire team
Buffer: ATK Up, DEF Up, Crit Up, SPD Up, Immunity, etc. This role makes your entire team stronger and more durable.
Controller: Stuns, Freezes, Sleep on enemy. This weakens the enemy team and allows you to have more turns than them.
A lot of Espers cover multiple parts. That's why it's possible to fill 6 roles with 5 espers.

The composition changes slightly depending on what you do.
For bosses for example, you usually only want an AP-Controller and Debuffer, not a Disabler-One.
Since AP-Control Controllers are a bit hard to acquire (and need good relics), it can be beneficial to just go double Healer for Boss fights instead until you have a good AP-Control Controller.
Another option is to swap out either the Controller or a DPS with a Defender. These usually are very durable and have abilities that scale of DEF. And tend to have a Taunt debuff Ability (makes enemy attack them and nobody else). Defenders can be a bit hard to get good relics though and they are rather inflexible.
Espers for Building Team Compositions
Some examples (including the ones above) of Rares and Epic choices for the roles:
DPS: Lin Xiao (good overall), Chloe (good overall), Mona (AoE attacks), Tang Yun (single target), Drew (single target with multi-target abilities), Freddy (strong single target), Lynn (single target with support capabilities)
Healer: Chang Pu (Single target and AoE heals as well as immunity), Ye Suhua (amazing support/heal hybrid), Heng Yue (Heal with slight support mix), Helena (not great, replace ASAP)
Supports: Unky Chai (buffs, CD reduction), Ye Suhua (support/heal hybrid), Heng Yue (Heal with slight support mix), Asenath (AoE Heal with Damage prevention), Berenice (Shields and slight AP-Control)
Controller: Controllers are a bit of a harder Topic to specify entirely. There are two types: Stun and AP-Control. Stun Controllers do exactly that, they Stun/Freeze/Sleep the enemy team so they wont get to use their turn. Careful with sleep "stuns" as they will get removed upon taking damage!

AP-Control Controllers do their best to delay the enemy team's turns for as long as possible. Generally Stun Controllers are easier to use but if properly utilised AP-Control Controllers can bring in the same, if not more value.
Stun Controllers: Long Mian (100% AoE Freeze), Pritzker (93% AoE Stun), Celine (100% AoE Sleep), Melanie (Petrifies via AP-Control if target below 30% AP), Jeanne (1-3 target stun + slight AP absorb), Li Ao (disables one enemy for 2 turns while alive)
AP-Control Controllers: Tiye (best controller BUT legendary!), Sander (single target + good vs kronos), Melanie (AoE + single target), Eira (AoE + debuff cleanse)
Example Dislyte Squad
An example early game comp fulfilling the list while only requiring rare Espers and one of the guaranteed legendaries from reroll.
Tang Xuan (Sun Wukong) or Li Ling (Nezha) as DPS
Mona (Artemis) as AoE DPS
Chang Pu (Yao Ji) as Single Target AND AoE Heal
Unky Chai (Yue Lao) as Support/Buff dude
5.1. Jeanne (Gerd) as Controller (Stun)
5.2. Berenice (Bastet) as a Support/Debuffer
(Pick either 5.1 or 5.2 depending on preference)
Conclusion
Hopefully, you have learned some interesting tips for building up your own teams in Dislyte. Do remember that in a team, there are different roles for Espers. You want to have the best Espers for those jobs depending on the game contents you are targeting, whether it is Kronos, Apep, Fafnir, Tower, or Point War.