LI LING

Might makes right to the domineering Li Ling and his celestial benefactor, Nezha!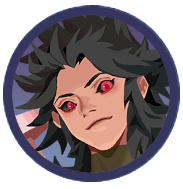 summary
Nezha is a fierce DPS Esper whose power scales with the number of debuffs affecting the enemy.
Tai Chi strikes an enemy and then converts a buff on the target into a Bleed debuff, which Nezha can use to drain their AP to himself. Altar launches a multi-pronged attack against the entire enemy force, stacks Bleed debuffs on each target, and unleashes a devastating final strike that can ignore much of a debuffed target's DEF rating.
Ratings
Recommended sets
Wind Walker Set x4
+25% SPD
Wrath of Jupiter Set x4
+30% ATK
Fiery Incandescence Set x2
+20% Crit Rate
Fiery Incandescence Set x2
+20% Crit Rate
skills
Lanceburner
Deals damage to an enemy equal to 120% of ATK plus Bleed for 2 turns. If the enemy is affected by a buff, removes the buff and inflicts an additional Bleed for 2 turns.
Lvl 2 Damage increased to 105%
Lvl 3 Damage increased to 110%
Lvl 4 Damage increased to 115%
Lvl 5 Damage increased to 120%
Tai Chi
Dispels all debuffs from Nezha or shortens the cooldown of Tai Chi by 1 turn if absent. Attacks an enemy 5 times, each dealing damage equal to 40% of ATK. Has a(n) 150% chance of inflicting Bleed for 2 turns.
Cooldown: 3 turns
Lvl 2 Damage increased to 130%
Lvl 3 Damage increased to 140%
Lvl 4 Damage increased to 150%
Lvl 5 Cooldown reduced by 1 turn(s)
Altar
Attacks all enemies 5 times, each dealing damage equal to 40% of ATK. Has a(n) 45% chance of inflicting Bleed for 2 turns. The last strike ignites an existing Bleed, reducing its duration by 1 turn while triggering the damage immediately.
Cooldown: 4 turns
Lvl 2 Damage increased to 35%
Lvl 3 Damage increased to 40%
Lvl 4 Damage increased to 45%
Lvl 5 Cooldown reduced by 1 turn(s)
Captain Ability
None