Complete list of all Espers (Heroes) in Dislyte
Esper Class – Affinity
Each Esper is coming from a specific faction. There are 4 factions in total, and the relations between them can be seen via the below screenshot.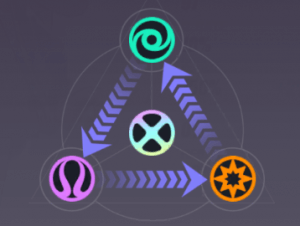 For example, Flow Espers are stronger than Inferno Espers, but are weaker than Wind Espers. The Shimmer (middle one) is not affected by the other factions during the battle.
Each hero has their own abilities, advantages, and disadvantages as well. So you can't really tell if this one is stronger than another just based on their Faction. Thus, I strongly recommend taking a look at our Dislyte Tier List to learn more about each specific Esper. Also, do remember that the synergy of your team is what matters the most.