Abigail


She, the Frigga's power, is the queen of the snowfields.

summary
Abigail is a defensive Support Esper who is also good at dealing damage. When Thorny Brambles deals damage to a single target, it has a chance of inflicting Sleep. Rose Blessing grants DEF Up and a Shield to all allies. Queen's Gift increases 1 ally's AP. If the ally whose AP was increased has not fallen, this ability's cooldown will be reduced.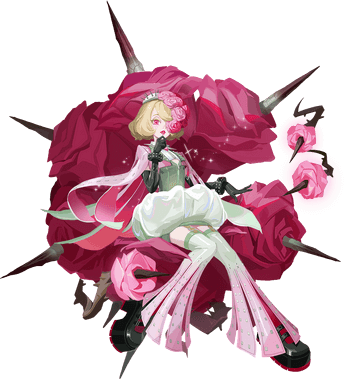 Ratings
Recommended sets
Wind Walker Set x4
+25% SPD
Ocean Waves Set x4
Grants a 35% chance of reducing all ability cooldowns by 1 turn at the start of Esper's turn.
The Light Above Set x2
Begins the battle with Immunity, which lasts for 1 turn.
Adamantine Set x2
All allied Espers start the battle with a Shield equal to 20% of their max HP.
Duration: 2 turns.
Recommended Resonance
HP
Targeted Constraints: Each surviving enemy grants ACC +2%
Crisis Response: If HP is below 50%, all allies' damage +2%, up to +6%
Hasty Action: If a skill is in cooldown, SPD +10
Pressure Vitals: Upon Dispelling or stealing a buff, that buff inflicts Max HP -3% to the target, up to -15% per turn.
Accurate Aim: If the target isn't buffed Miss Rate: -15%
Protective Shield; When granting a shield, shield strength +8%
skills

Thorny Brambles
Attacks 1 enemy. Deals 120% ATK damage.
Inflicts Sleep for 1 turn.
Heals 3% of Frigga's max HP.

Rose Blessing
Gains Recovery for 2 turns. Grants DEF Up and a Shield to all allies for 2 turns. Shield strength equals to 13% of Frigga's max HP + 25% of the target's lost HP.
Cooldown: 4 turns.

Queen's Gift
Increases 1 ally's AP by 100%. If the ally has fallen, revives them first and then heals 10% of their max HP. If the ally is not fallen, reduces this ability's cooldown by 3 turn(s).
Grants Absorb and ATK Up to all allies for 2 turns.
Cooldown: 7 turns.
Absorb: Dealing damage restores HP equal to 20% of damage.

Captain Ability
Increases ally HP by 30%