Clara


Empowered by Hera, the queen of heaven, she will free the people from their suffering.

summary
Clara is an efficient healing Esper who grants team-wide AP buffs, immunity, and shield. With Queen's Protection, Clara's healing removes debuffs from her targets, and grant immunity if there is no existing debuff. After Ascending, the portion of healing beyond the target's max HP will be partially converted into Shield. Hymn of Life increases AP for all allied units, with limited healing. Queen's Blessing heals the allied unit with the lowest HP while you attack targets.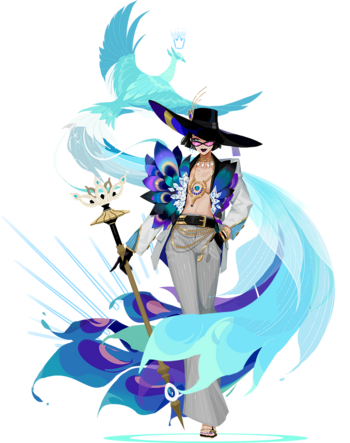 Ratings
Recommended sets
Wind Walker Set x4
+25% SPD
Wind Walker Set x4
+25% SPD
Sword Avatara Set x2
25% chance of using the basic ability to counterattack upon taking damage.
The Light Above Set x2
Begins the battle with Immunity, which lasts for 1 turn.
Recommended Resonance
HP
Life Flux: IF the target's HP is below 40%, target's healing efficacy +5
Crisis Response: If HP is below 50%, all allies' damage +2%, up to +6%
Hasty Action: If a skill is in cooldown, SPD +10
DEF
Divine Resilience: When attacked by a critical hit, Damage taken -2%
Shield Slam: When attacking, if DEF is higher than the target's, damage +2%
skills

Queen's Blessing
Attacks an enemy twice, dealing total damage equal to 110% of ATK. Heals 2 allies with the lowest HP for 5% of her max HP.
Lvl 2 Damage increased to 95%
Lvl 3 Damage increased to 100%
Lvl 4 Damage increased to 105%
Lvl 5 Damage increased to 110%

Queen's Protection
Upon healing, dispels 1 debuff from targets.
When healing amount exceeds the limit, grants a Shield for 2 turns. Shield strength equals 120% of excess healing amount.

Hymn of Life
Increases all allies' AP by 20%.
Heals all allies for 35% of their max HP.
Dispels 1 debuff from each ally. Grants Immunity to allies without debuffs for 1 turn.
Lvl 2 Healing amount increased to 28%
Lvl 3 Healing amount increased to 31%
Lvl 4 Healing amount increased to 35%
Lvl 5 Cooldown reduced by 1 turn(s)

Captain Ability
Increases ally DEF in Point War by 40%.