Catherine


The dark mind of Catherine has become a perfect foil for the goddess of death Hela, and her shadow energies.

summary
Catherine is a support Esper who stands out for her ability to temporarily save teammates from death and strong debuffs and dispels.
Catherine's Underworld Presence attacks all enemies while providing her team with a "Standoff" buff that prevents any teammates from dying for the duration. Her passive, Bone Pass, automatically dispels all debuffs cast against her team and grants a small AP bonus at the start of each turn.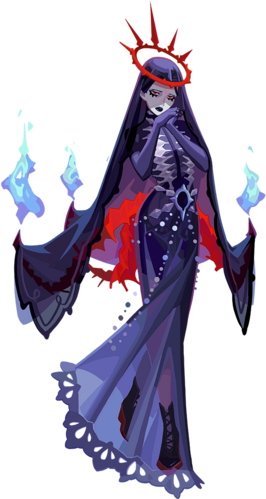 Ratings
Recommended sets
Wind Walker Set x4
+25% SPD
Astral Witchcraft Set x4
Increases AP of teammates under control debuffs by 30% (cannot stack).
Master Grove Set x2
+25% HP
Adamantine Set x2
All allied Espers start the battle with a Shield equal to 20% of their max HP.
Duration: 2 turns.
Recommended Resonance
HP
Life Flux: IF the target's HP is below 40%, target's healing efficacy +5
Crisis Response: If HP is below 50%, all allies' damage +2%, up to +6%
Hasty Action: If a skill is in cooldown, SPD +10
Targeted Constraints: Each surviving enemy grants ACC +2%
Law of Conjunction: When granting a buff, each buff restores one's own HP equal to 1% max HP, up to 3% max HP per turn
skills

Nightfall Grief
Attacks an enemy twice, each dealing damage equal to 65% of ATK with a(n) 50% chance of inflicting Miss Rate Up for 2 turns.
Lvl 2 Damage increased to 55%
Lvl 3 Chance to trigger increased to 45%
LVI 4 Damage increased to 60%
Lvl 5 Chance to trigger increased to 50%
Lvl 6 Damage increased to 65%

Bone Pass (Passive)
Absorbs 1 debuff from all allied Espers at the start of every turn, granting 5% AP to all allies per debuff absorbed.
This ability cannot be upgraded.

Underworld Presence
Deals damage to all enemies equal to 110% of ATK and grants Standoff to all allied Espers for 1 turn.
Cooldown: 3 turns
Lvl 2 Damage increased to 95% Lvl 3 Cooldown reduced by 1 turn(s) Lvl 4 Damage increased to 100%
Lvl 5 Cooldown reduced by 1 turn(s)
Lvl 6 Damage increased to 110%
Captain Ability
None