We will be taking Dislyte offline for a short time on March 29, 2022 07:00-09:00 (UTC+0) to update and improve the game. Players who are Lvl 5+ at the time of the update will receive a 160 Nexus Crystal reward via in-game mail afterwards.
Note: The server may open at an earlier or later time if necessary.
Remember: You will be unable to sign in during this time.
▌New Features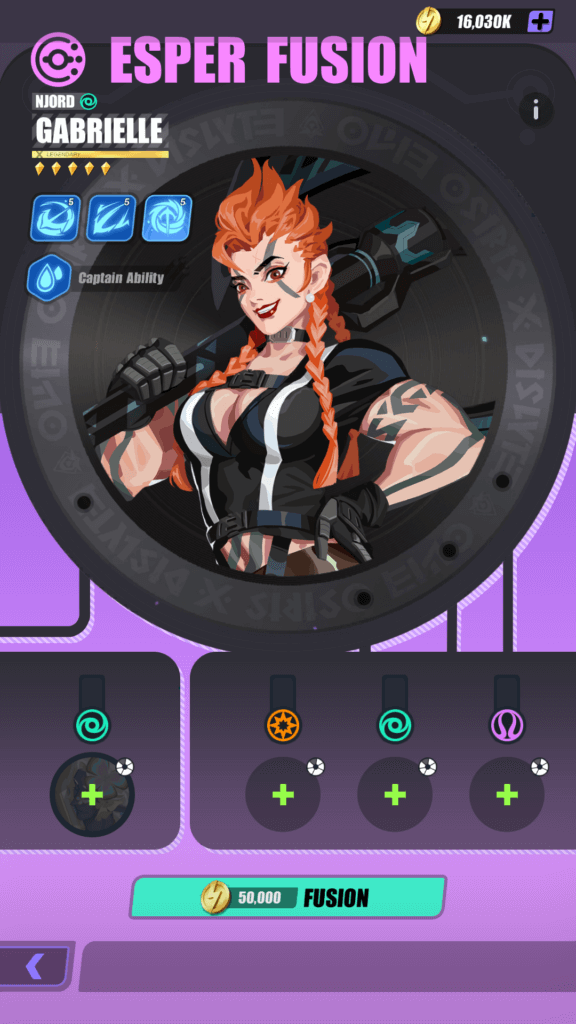 1. Added an Esper Fusion function that unlocks for Lvl 25+ players.
– Player Level reaches Lvl 25 to unlock. Enter from the War Room on the left of the home screen.
– In the Esper Fusion screen, players can designate an Esper to fuse into. Follow the tips and submit the required Espers as materials to fuse.
– To fuse an Esper, a specified low Star Rating Esper and 3 other Espers of low Star Rating (Inferno, Wind, and Flow-attuned, one of each) are required as materials.
– Legendary Wind-attuned Esper Gabrielle (Njord) and Epic Wind-attuned Esper Fabrice (Freyr) can no longer be drawn from the Gold Record Player following this update; they will only be obtainable from Esper Fusion.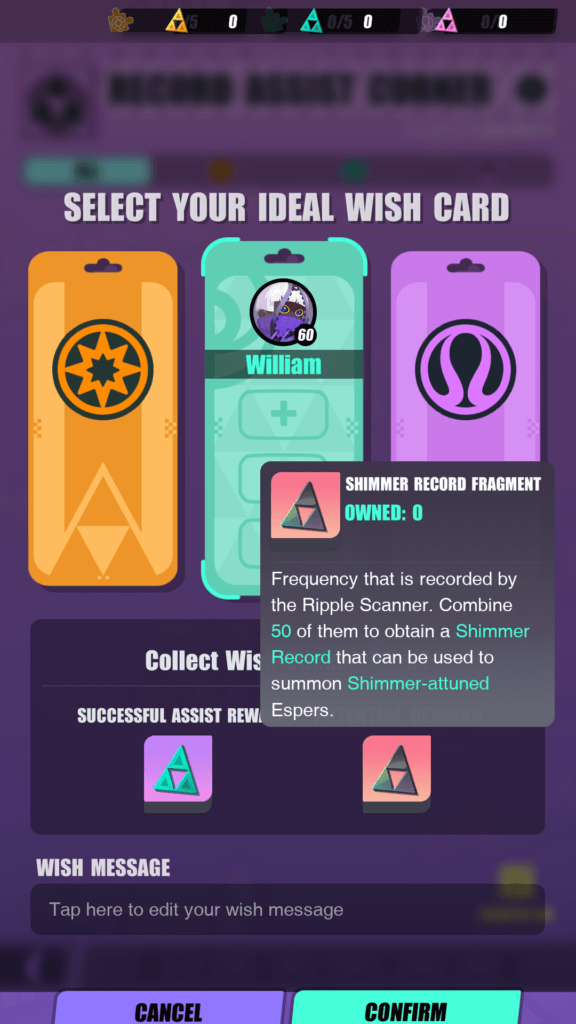 2. Added Record Assist feature (join a Club to unlock).
– Club Members can post a Wish Card daily, choosing from one of the following elemental classes: Inferno, Flow and Wind.
– Acquire 3 Wish Stickers of the same elemental class to redeem the corresponding Wish Card Reward. A reward contains 4-5 random Record Fragments that match the Wish Card's elemental class, with a chance to obtain Shimmer Record Fragments.
– Use 20 Inferno, Flow, or Wind to fuse into a Record of the same elemental class. Use 50 Shimmer Record Fragments to fuse into a Shimmer Record.
– Players can obtain Wish Stickers from Club Sign-ins, Daily Tasks, and the Friendship Shop daily. Stickers can be used on oneself or donated to other Club members.
Note: Stickers must match the mission's required elemental class to donate.
3. Added Inferno, Flow, and Wind Records. Use to obtain a 3-5 Star Esper of the same elemental class.
4. Added a Battle Report system that allows players to check Espers' statistics and ratings in Story, Ritual, Sonic, Infinite and Cube Miracles, Ripple Dimension, Point War, and other Battle Result screens.
5. Added Boomboom Gacha (unlocks for Lvl 20+ players).
– Event Time: March 29, 2022 (post-update)-April 12, 2022 00:00:00 (UTC+0)
– Event Details:
◇ Complete event missions daily to obtain Gacha Points. Accumulate a certain amount of Points to claim rewards. After acquiring 100 Gacha Points, you can draw awesome prizes from the Gacha Machine, including Legendary Abilimon, Gold Records, Nexus Crystals, etc.
◇ 100 Gacha Points will be deducted each time you draw from the Gacha Machine.
Note: Excess Points from the previous phase will be kept.
◇ Once all prizes have been drawn from the Gacha Machine, you can reset it for the next round of drawing.
6. Added new Tactics Exams for Raven (Odin), Lucas (Apollo), and Dhalia (Calypso).
7. Added second Album in Career record for max leveled Raven (Odin), Clara (Hera), Narmer (Ra), Unas (Shu), and Lin Xiao (White Tiger).
▌Adjustments and Optimizations
1. Adjustments to the Cube Miracle:
This update brings a big change to Cube Miracle.

– Cube Miracle now has several difficulties. Clear a difficulty to unlock the next difficulty.
– Cube Miracle now has more strategic factors. These factors include collapsing unselected tiles, Rune Upgrade, Death Inheritance, etc. You can explore the new Cube Miracle to your heart's content after the update!
– You now get rewards after winning a battle instead of opening chests in the Cube Miracle. Chest Rewards are still available when clearing a level. You will get better aforementioned rewards the higher the difficulty you choose.
– The Mythic Relic Pack in the Cube Shop now contains Gear Crafting materials.
2. Adjustments to Esper Promotion and Resonance:
– Can no longer use the same name Espers for Esper Resonance in the Esper Upgrade/Promotion screen. You need to enter the Resonance screen and tap the bubble in the middle to select the same name Espers for Resonance.
– Starimon will be returned based on the Star Rating of the Espers consumed. (If you use a Legendary Esper for Resonance, Lvl 1 Legendary Starimon will be returned.)
Note:When consuming 6-Star Espers as Resonance materials, Lvl 1 Legendary Starimon will be returned.
– The base Resonance Energy of an Esper has been tweaked based on their base Star Ratings:
* Uncommon Esper: 4 Energy →3 Energy
* Rare Esper: No changes
* Epic Esper: 4 Energy →5 Energy
* Legendary Esper: 4 Energy →6 Energy
Note: If you already allocated Energy to an Esper prior to this update, you will need to allocate Energy again in the Resonance screen if the Esper's Energy has changed.
– Optimized the Star Promotion screen. When you have Espers that can be used as materials for Esper Promotion, tap the + icon to instantly enter Quick Promote screen.
– Optimized the tips in Star Promotion screen.
– Now returns Relics for material Espers when leveling up, promoting, performing Resonance or fusing an Esper.
– Quick Promote now unlocks at Lvl 25 instead of Lvl 18.
3. Course updates:
– We've made some improvements to the Star Promotion-I and Star Promotion-II courses. As a result, this update will reset your course process. You can now complete the courses again and therefore earn more course rewards.
– Optimized some courses in Recon Plan I.
4. You can now preview stats when purchasing Relics from the Gold Shop. Relic prices have changed based on their Star Rating and the number of secondary Stats they have.
5. Lowered the Difficulty Levels of Hard/Purgatory Mode Practice Stages in Story mode.
6. Increased the number of items an Esper can carry in their Inventory.
7. Optimized an issue where players could not reconnect to the Esper Arena after a disconnection.
▌Bug Fixes
1. Fixed an AI error for Cecilia (Isis) where she would only use her first Ability.
2. Fixed an issue where the game won't stop loading when switching to a new account.
3. Fixed an issue where the Exploration Warrants cap was not showing correctly in Expedition.
▌Preview of New Content
We will be introducing 4 new Espers in the next update, a brand new "Esper Probability UP" event, a new gameplay mode, and some other events. Stay tuned!