Complete guide regarding the upcoming Bloody Hunt event in Dislyte.
During the event, Event Maps, a Commission Platform, Power Boosts, and more features will be available. Attend the event to obtain Merit Badges used to exchange for Flow-attuned, Epic Esper Aurelius (Ullr), Flow Records, Gold Records, and more awesome rewards!
Event Time: July 12, 2022 (post-update) -August 02, 2022 (UTC+O)
Requirements: Unlocks for Squad Lvl 20+ players
Bloody Hunt Event Guide
Cannot beat Catherine – The Last Stand? Save your Esper skills until the final battle and nuke all of the damage you have on her, you will beat it with ease.
Level 7 is the max for each boost. It's best to max out Pursuit first.
With enough power and boosts, you can level up fodders while farming Miramon.
Best Miramon Farming Teams

Best Catherine Farming Teams
Updating…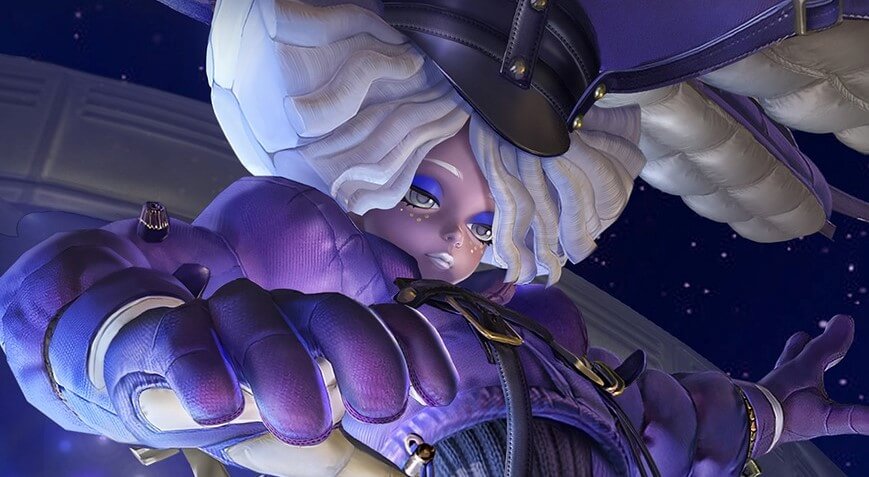 Bloody Hunt Event Story
While investigating the missing bounty hunters, Zora and Xiao Yin discover a private mine built by the Shadow Decree and have come to the conclusion that the Shadow Decree might be in control of the Greywater Mining Company. Facing one crisis after another, the Zora who yearned for vengeanæ has gradually changed…
Event Map
The event map consists of three chapters: The Simmering Crisis, The Enigma, and The Last Stand. The final chapter will be available later. You can experience event stories, challenge event stages, and obtain Merit Badges during the event.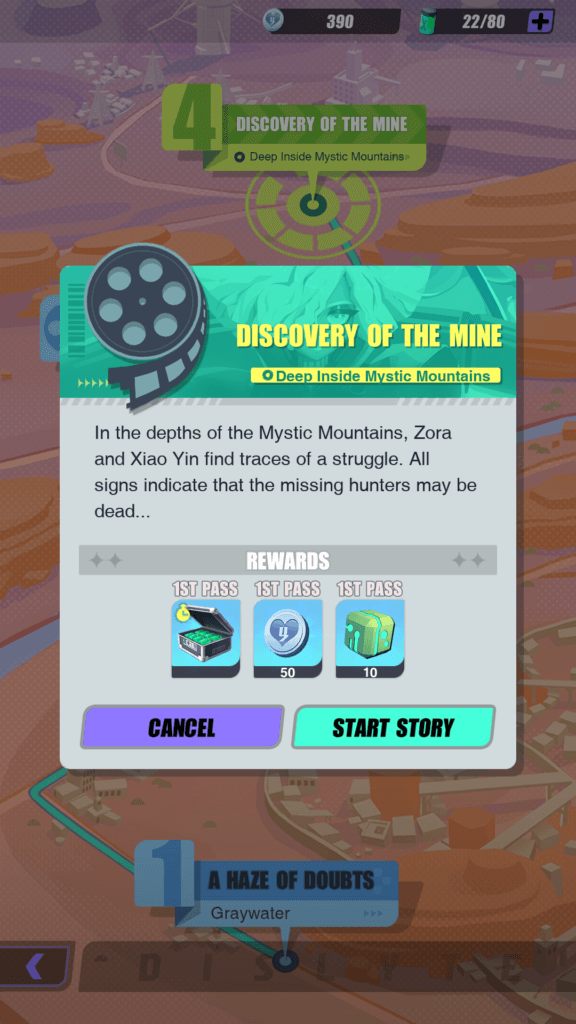 Commission Platform
You can get AFK rewards continuously (even when you are offline) from the Commission Platform to earn Merit Badges and Boost Crystals.
Merit Level
Merit Level represents each squad achievement of this event. Higher Merit Level grants more AFK rewards.
You can get Merit XP by completing Commissions to upgrade your Merit Level.
Commissions
Merit XP can only be acquired through Commissions.
Some Commissions require you to complete prerequisite missions to unlock.
AFK Rewards

From the start of the event to 7/26 00:00 (UTC+0), AFK rewards will be accumulated once every hour, max 48 hours. Please remember to claim them in time.
Before 7/19 00:00 (UTC+O), you will get Basic Merit Badges and Boost Crystals from AFK rewards. After that time, you can also get Elite Merit Badges.
As the Merit Level increases, you will get more AFK rewards.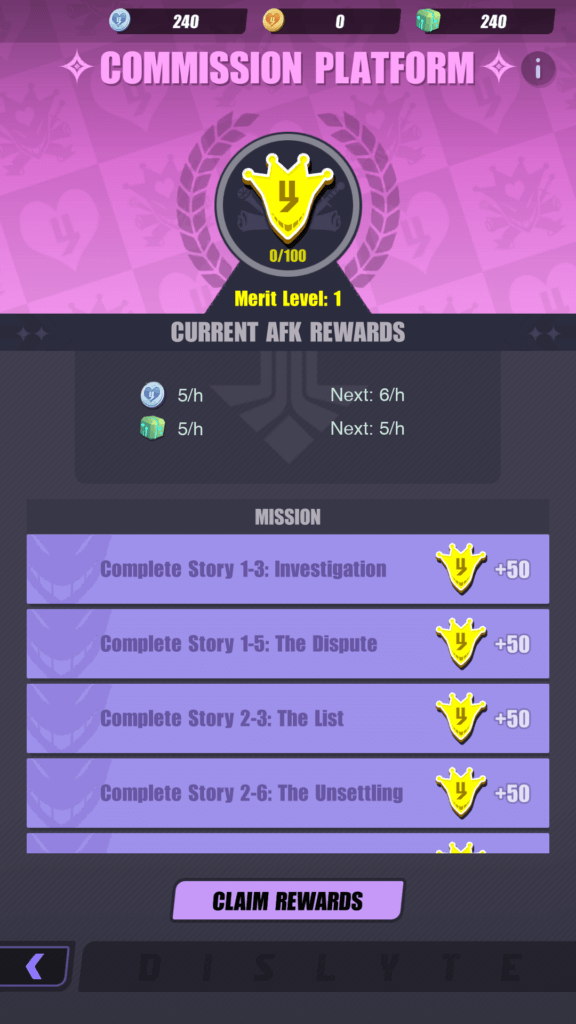 Power Boost
During some event stages, you can use the Amplifier to greatly improve your squad's power. From the Commission Platform's AFK Rewards and Event Stages, you can get Boost Crystals to enhance node powers.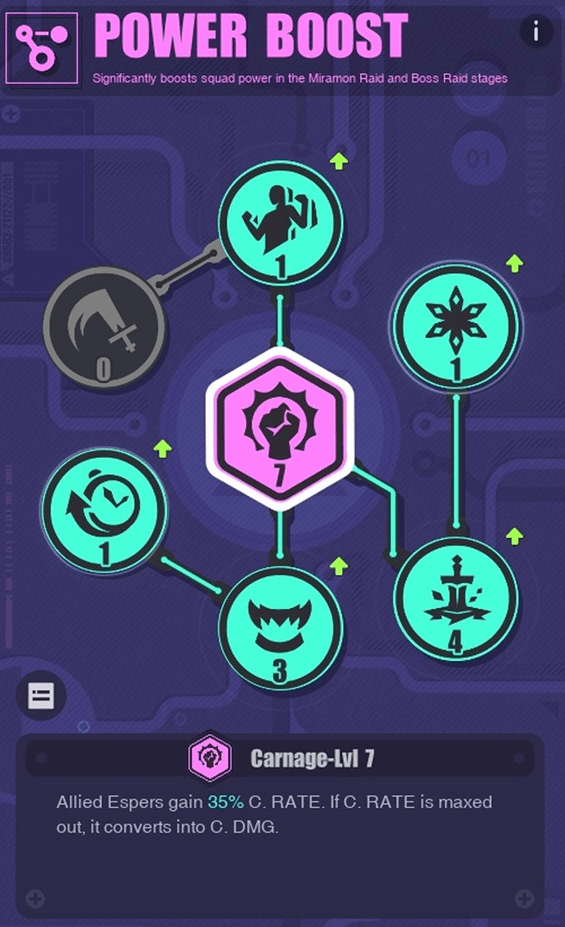 Bloody Hunt Event Shop
There are two event shops: a Basic Merit Badge Shop and an Elite Merit Badge Shop.
You can get the Merit Badges required for purchasing items from the shops by challenging event stages and collecting AFK rewards on the Commission Platform.
Basic Merit Shop: Use Basic Merit Badges to redeem rewards, including Epic Esper – Aurelius and Flow Records.
Elite Merit Shop: Unlocks at 7/19 00:00 (UTC+O). Use Elite Merit Badges to redeem rewards, including Limited Namecard – Bloody Hunt and Legendary
Abilimon.
Basic Merit Badges and Elite Merit Badges can be acquired by challenging event stages and collecting AFK rewards in the Commission Platform.
Note: The Epic Esper Aurelius won't be added to the Echo card pool for a short while. This event shop is the only way to acquire Aurelius for now.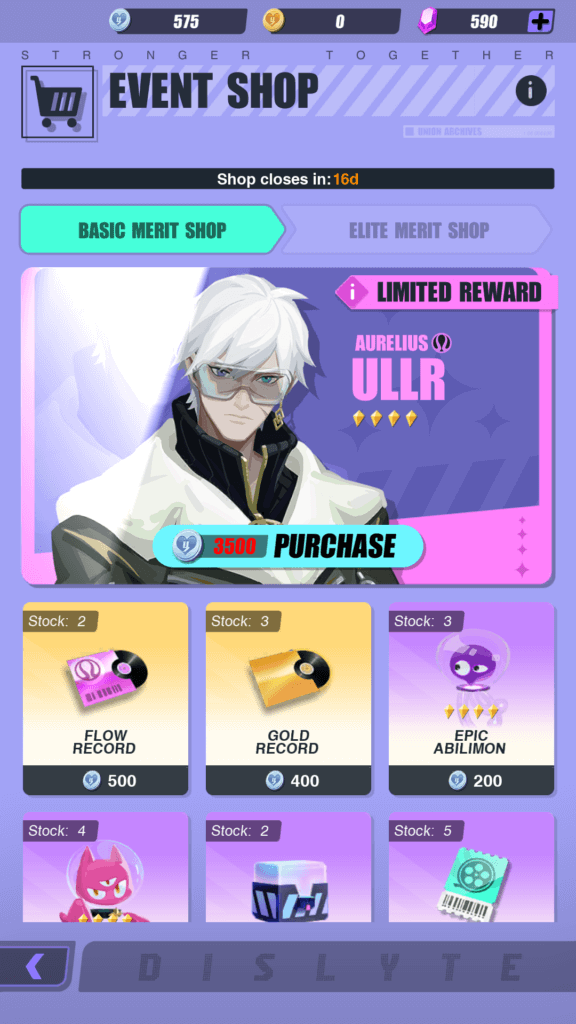 After 00:00 (UTC+O) on July 26, chapter entrances, Power Boosts, and the Commission Platform will be closed. You will still be able to redeem rewards in Event Shops though.