Here are some latest news regarding the upcoming Echo Spin update (gacha system) in Dislyte this December.
Dislyte Echo Spin Update
We will remove the super sound pool in the version and introduce new rules for the gold record pool.
The new gold record pool (excludes the beginner card pool):
Every 100 spins still guarantees a legendary Esper.
New legendary Esper will be added to the gold record pool directly.
New feature – Wish Stones:

20 wish stones will be given for every legendary esper drawn
1 wish stone for every epic esper drawn.
Players can use 100 Wish Stones to summon the Event Esper, Otherwise, players can choose 5 already owned Legendary Espers to a pool (not shimmer Espers), and draw 1 of them for the Resonance material.
Guaranteed attempts for the super sound matrix pool we will convert any remaining guaranteed attempts in the current version's super sound matrix pool (the Fatum Sisters event pool).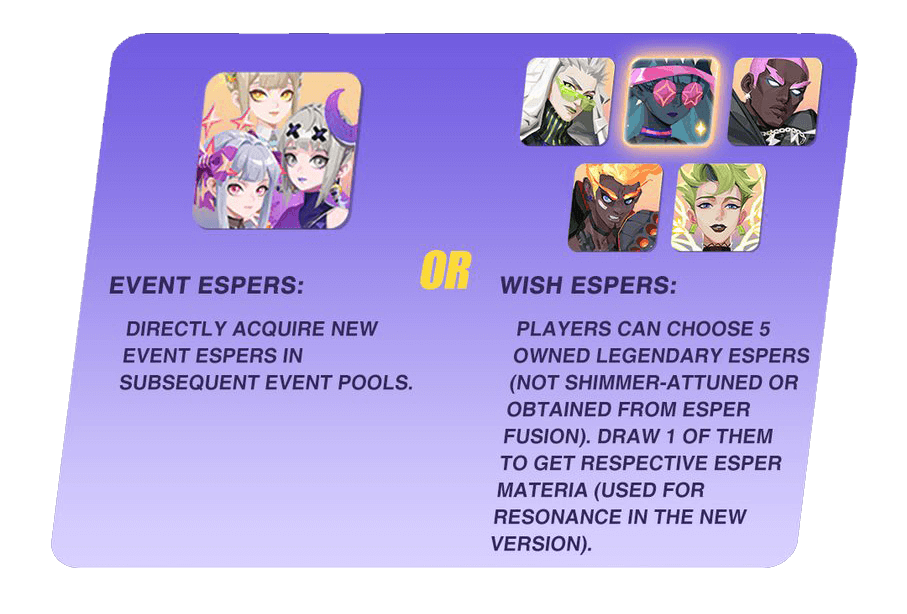 After the update, wish stones will be issued to each player based on their current pity progress and remaining pity times (see the table below).
You may find them directly in your inventory or the wish pool interface after the update.
Espers Acquisition Sources Adjustment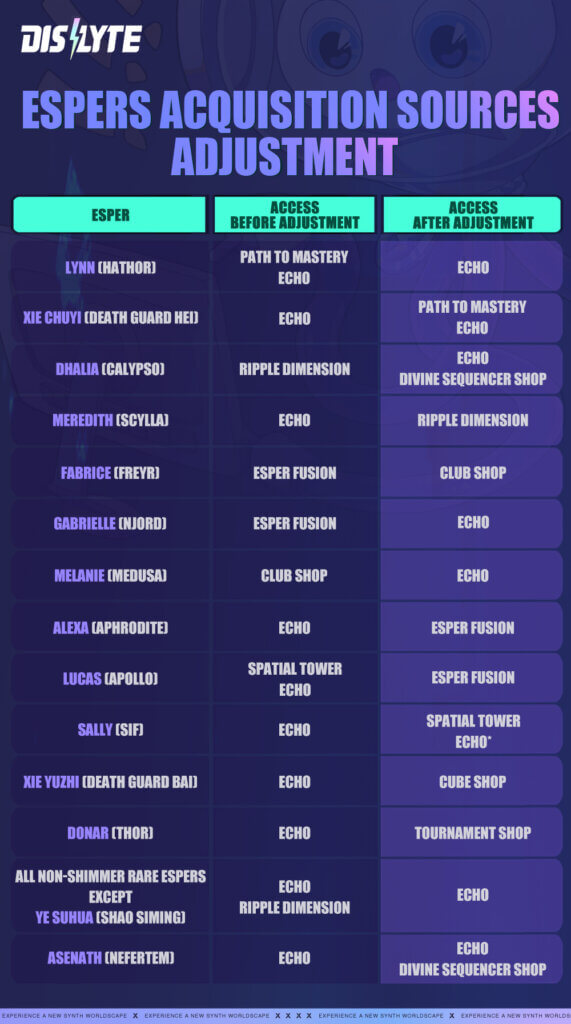 Lynn is now gonna be replaced by Red Twin/Xie Chuyi in the Path to Mastery bonus quest.
Dhalia is leaving the Ripple Dimension drop and is instead obtaiend through Echo or the Divine Sequencer Shop.
Meredith leaves the Echo summon pool and instead is a Ripple Dimension drop.
Fabrice and Gabrielle are leaving the Esper Fusion. Fabrice can only be obtained through the Club Shop while Gabrielle can be obtained through Echo.
Alexa can only be obtained from Esper Fusion.
Melanie is leaving the Club Shop and instead can be obtained through Echo.
Lucas can no longer be obtained from clearing Spatial Tower. He is obtainable from Esper Fusion.
Sally now is the reward for clearing Spatial Tower.
White Twin/Xie Yuzhi can only be ontained from Cube Shop. No more Echo summon.
Donar can only be obtained through Tournament Shop. No more Echo summon.
Asenath can also be purchased in the Divine Sequencer Shop.
Credits: Itachiuchiha