Finding it hard to complete the Reincarnation Tower in Dislyte? No worries, we are here to give you the recommended strategies and formations for each floor level within this event.
Reincarnation Tower Event Summary
In the Reincarnation Tower, players need to challenge a tower of 15 floors.
Up on finishing a floor, whether win or lose, players receive rewards and Wave Fragments, allow players to purchase "Espers" from the event shop. These Espers can only be used in this event.
Upgrade Espers to strengthen them.
Upgrade your Espers by having 2 duplicates of the same tier. The max Esper tier is 3.
Each challenge contains a total of 15 floors. After 15 floors, or after losing 5 times, the progression will get reset.
Reincarnation Tower Tips:
Focus on upgrading Espers you already have. Their stats get increased significantly after each upgrade.
You can use your Espers in the next battles if they die.
You don't always have to spend the Wave Fragments immediately. Save them until you get the right purchases.
Don't spend a lot on Shop Refreshes (no more than 1 refresh each floor).
Esper with AP Control is very powerful and must have (Unas, Tiye, Lucas, Li Ling, etc.). This is because all Espers don't have Relics boost.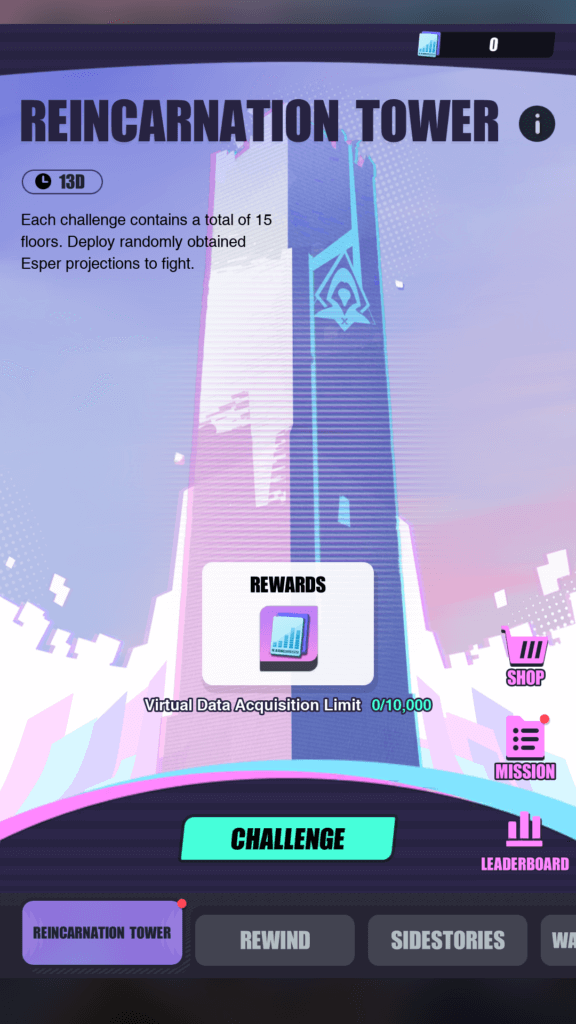 Reincarnation Tower Rules
This mode does not require Stamina, and participation attempts are not limited.
Each challenge contains 15 floors. You can deploy randomly obtained Esper projections to fight.
You'll get Virtual Data and proceed to the next floor upon victory and lose 1 Challenger's Heart upon failure.
Your challenge will end upon completing 15F or losing all 5 Challenger's Hearts, and you will be rewarded with Virtual Data based on the highest floor you clear.
During a challenge, you can tap the Reset button to end the challenge instantly and get corresponding rewards.
Virtual Data that you can obtain is limited. Once it reaches the limit, you can no longer obtain it.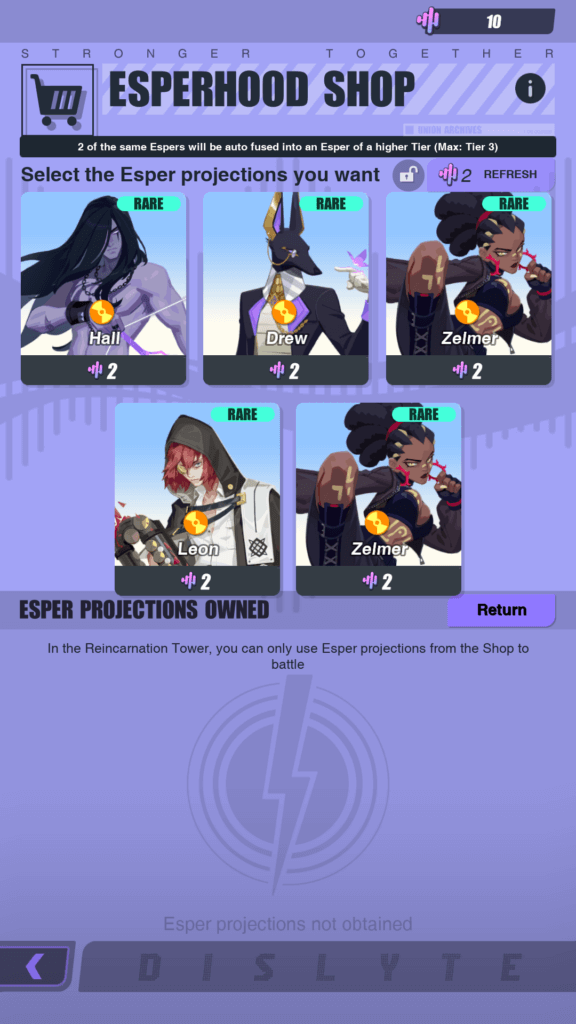 Esperhood Shop
You can spend Wave Fragments to either purchase Esper projections in the Esperhood Shop or refresh products in the Esperhood Shop.
Esperhood Shop resets after each fight.
At the start of a challenge, you'll get some Wave Fragments. At the end of a battle, you can also get some Wave Fragments.
The higher the floor you reach, the greater the probability that Legendary and Epic Esper projections will appear in the Esperhood Shop.
Esper Refresh Probabilities
1F: Legendary 0%, Epic 0%, Rare 100%
2: Legendary 0%, Epic 0%, Rare 100%
3F: Legendary 0%, Epic 5%, Rare 95%
4F: Legendary 0%, Epic 10%, Rare 90%
5F: Legendary 0%, Epic 15%, Rare 85%
6F: Legendary 1%, Epic 20%, Rare 79%
7F: Legendary 2%, Epic 25%, Rare 73%
8F: Legendary 3%, Epic 30%, Rare 67%
9F: Legendary 4%, Epic 35%, Rare 61%
10F: Legendary 6%, Epic 40%, Rare 54%
11F: Legendary 7%, Epic 42%, Rare 51%
12F: Legendary 8%, Epic 44%, Rare 48%
13F: Legendary 10%, Epic 46%, Rare 44%
14F: Legendary 11%, Epic 48%, Rare 41%
15F: Legendary 12%, Epic 50%, Rare 38%
Esper Projections
In the Reincarnation Tower stages, you can only use Esper projections to battle
All Esper projections start at Tier 1 and can be upgraded up to Tier 3.
When you have 2 of the same Tier 1 Esper projections, they'll be fused into a Tier 2 Esper projection automatically.
When you have 2 of the same Tier 2 Esper projections, they'll be fused into a Tier 3 Esper projection automatically.
Once an Esper projection's Tier is upgraded, all of its attributes will be boosted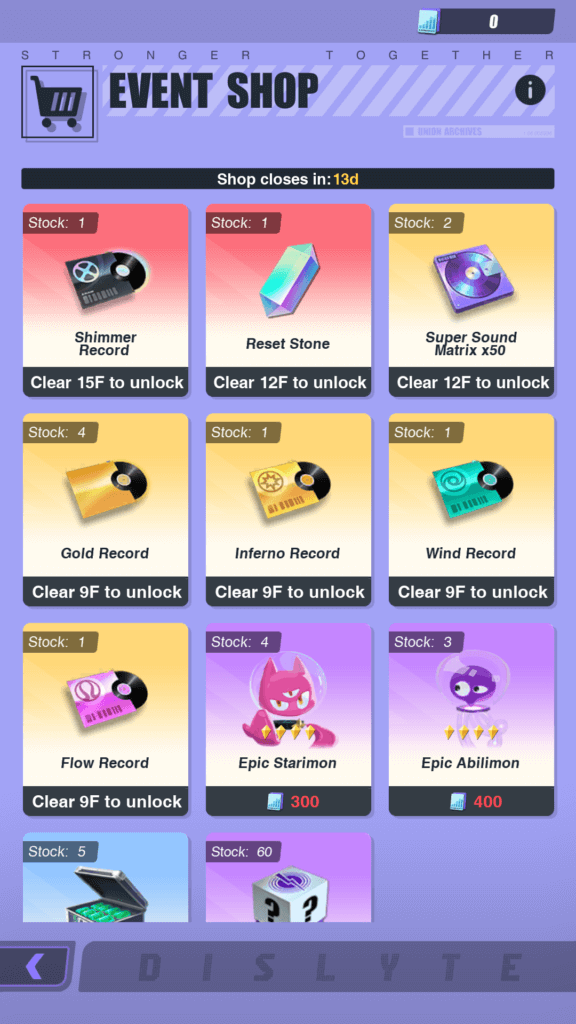 Event Shop
You can use Virtual Data to redeem for abundant rewards in the Event Shop.
Event Tasks
You can complete various missions to claim their rewards.
Some missions appear only after you complete prerequisite missions, and their timer will start once they appear.
Daily missions refresh daily at 00:00 (UTC+O) and can be completed repeatedly.