Esper Feud Event is a series of different interesting tasks. Complete them to obtain a lot of reward and customize 2 Flawless relics for free!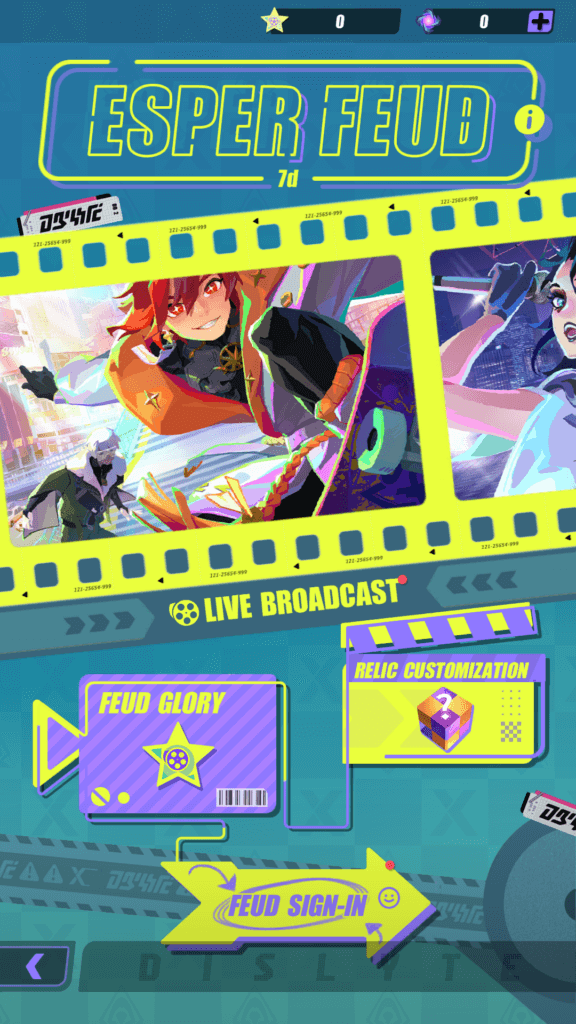 Live Broadcast
Live Broadcast contains 3 areas which unlock as time passes, and each area contains 3 stages.
There are 3 difficulties in each stage: Normal, Hard, and Purgatory. Completing one difficulty unlocks the next. Each stage adopts different battle rules. As the difficulty increases, new rules will be added.
Completing a difficulty grants Feud Smartcard xl , Relic Radixes, and other rewards. Each stage will grant up to 3 Feud Smartcards.
Relic Customization
You can customize 2 Flawless 6-Star Relics in this event!
You can select the set type, position, and main attribute of a Relic, and use Relic Radixes to refresh its secondary attributes.
Relic Radixes can be acquired from Live Broadcast and purchased with Nexus Crystals. Free Relic Radixes will be consumed first.
If there are unused Relic Radixes (purchased with Nexus Crystals) when the event ends, Nexus Crystals of their equivalent value will be refunded via mail.
Feud Glory
Once a certain number of Feud Smartcards are collected, players can claim rewards in Feud Glory.
Feud Sign-in
Sign in to the Esper Feud event daily to claim rewards!