Lewis

Ares doesn't make mistakes, and choosing Lewis as his avatar is no exception.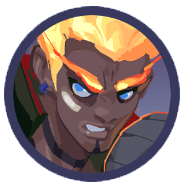 summary
Lewis resembles an enraged berserker who can gain a temporary attack booster at the cost of some HP.
Both Lewis' Fire Palm and Rage Avatar can deliver massive amounts of short-term damage to a particular enemy. Rage Avatar provides an attack bonus proportional to the amount of HP lost and will, if this attack defeats the target, reduce all of Lewis' ability cooldowns by one turn.
Ratings
Recommended sets
Hades Set x4
35% of damage dealt is used to regenerate HP.
Fiery Incandescence Set x2
+20% Crit Rate
skills
Iron Fish
Deals damage to a target equal to 130% of ATK, and converts 50% of damage dealt in this attack to healing. If a critical hit is triggered, then 100% of damage dealt is converted into healing.
Lvl 2 Damage increased to 105%
Lvl 3 Damage increased to 115%
Lvl 4 Damage increased to 130%
Rage Avatar
Deals damage to 1 enemy equal to 180% of ATK at the cost of 30% of current HP, and grants a bonus turn.
Cooldown: 3 turns
Lvl 2 HP deduction reduced to 35%
Lvl 3 Damage increased to 170%
Lvl 4 HP deduction reduced to 30%
Lvl 5 Damage increased to 180%
Lvl 6 Cooldown reduced by 1 turn(s)
Fire Palm
Attacks a target three times, dealing total damage equal to 250% of ATK plus 5% for every 10% HP lost. All ability cooldowns are reduced by 1 turn if this attack slays the target.
Cooldown: 4 turns
Lvl 2 Damage increased to 240%
Lvl 3 Damage increased to 250%
Lvl 4 Cooldown reduced by 1 turn(s)
Captain Ability
During Ritual Miracle or Sonic Miracle challenges, all allied Esper's C.RATE increases 30%.