Dislyte is a stylish pop-fantasy RPG set in future cities with striking visuals, exuberant beats, and superheroic characters.
Latest Dislyte Update Patch Notes
New Dislyte Guides
CREATE YOUR OWN
DISLYTE TIER LIST
Drag-and-drop Espers to build up your own Tier List using our tier list maker.
Download and re-share it with your friends!
What does Dislyte have?
Unique Style
This should be the best stylish Sci-fi / Cyberpunk / pop-fantasy RPG mobile game that you have ever seen.
Strategic Gameplay
Created an unlimited amount of team formations with hundreds of battle-ready heroes.
High-quality Game
The game-style design quality is enough to say that this is a super detailed game that you shouldn't miss.
Music
With the stunning soundtracks of the game, enjoy it without even feeling tired!
Dislyte by LilithGames
If you want to have a brand-new gaming experience with stunning audio-visual effects in a futuristic cyberpunk-themed world of mythology and mysterious creatures, Dislyte is for you.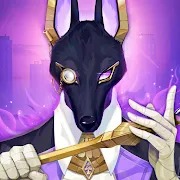 Dislyte is a new outstanding pop-fantasy RPG mobile game from Lilith, the creator of many other top-performing games such as Rise of Kingdoms, Call of Dragons, AFK Arena, and Warpath.
Form unlimited team formations using hundreds of heroes from mythic stories to protect the world against unknown threats.
The past and the future have just collided. The ancient heroes and mythological monsters are joining the biggest war ever. The most elite people from Greek, Chinese, Egyptian, Europe, and everywhere have just been granted divine power, making them become "Espers" to protect the world.
Defeat the enemies using the Espers you have! They have different personalities, appearances, skills, pros, and cons, depending on the gods that gave them the power.
Don't forget to chill in the funky town after hard-core battles, discover the new addictive soundtracks around the world and explore more and more new characters from the game unique gacha system.
Gameplay Screenshots